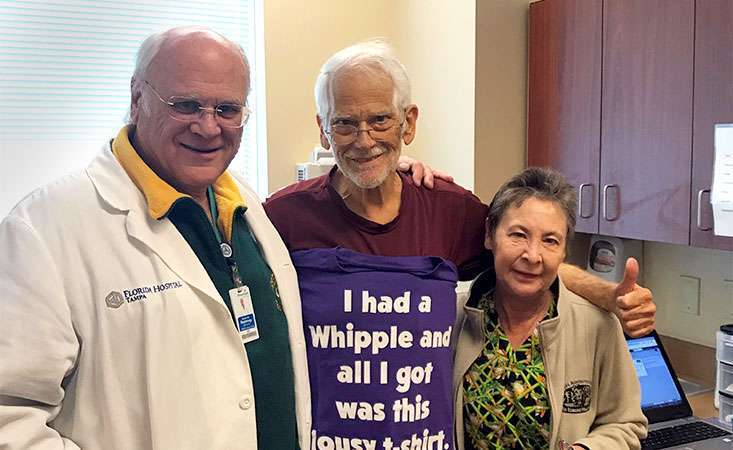 "Doctors are true heroes!" – Luisa, whose grandmother fought pancreatic cancer
National Doctors' Day, March 30, is a time to recognize and show appreciation for the contributions of physicians.
Doctors are being put to the test today more than ever. At the Pancreatic Cancer Action Network (PanCAN), we are thankful for all of the doctors who work tirelessly to treat and be there for their pancreatic cancer patients.
Medical oncologists, surgeons, radiation oncologists, pathologists, gastroenterologists – we need each and every one providing excellent and compassionate care to those facing this disease. The progress we've made against the world's toughest cancer would not be possible without their efforts and expertise.
In honor of Doctors' Day, the PanCAN community shared heartfelt messages of thanks and appreciation for the doctors who have made a positive impact on their pancreatic cancer journey.
Here are just a few:
Randy, an eight-year pancreatic cancer survivor in Ohio, said of his doctor, "He has been with me through seven years of treatment, always solid and unwavering."
Joan appreciated that her husband's doctor "gave us hope when we didn't think there was any."
"Without their skills and positive approaches to my health outcomes," Marsha said of her doctors, "I would not be able to thank them today as a six-and-a-half-year survivor!"
"My husband's doctor is so attentive to his needs and listens," said caregiver Bernie. "She helped us make many great memories. We can't thank her enough. She truly cares, is always one step ahead and listens to what's important to my husband. Compassionate best describes her."
Ken, a stage III survivor from Illinois, has been through quite a few treatments and procedures – 12 rounds of chemotherapy, 30 rounds of radiation and an attempted Whipple procedure. He values that his doctor has helped him every step of the way: "He takes the time to explain every procedure and the reasons why."
Rhona appreciated the care her mom received when she was fighting the disease: "Mom was treated with all her underlying issues with a precise, watchful and caring eye. I am forever grateful to her doctor and her compassionate care."
"My doctor has been treating me for stage IV pancreatic cancer for two years and nine months," said Renee. "He is willing to think outside the box with different treatments and is always upbeat and positive. I credit him for the fact that I am still alive and fighting."
And Kaitlyn thanked her dad's doctor "for getting my dad into the clinical trial that saved his life!"
In these particularly challenging times for all of us, doctors are also facing new challenges as they work hard to provide compassionate and beneficial care.
PanCAN is particularly grateful to the many doctors across the country choosing to specialize in treating pancreatic cancer patients. These doctors are making a significant impact on people with this disease every single day.
Seeing pancreatic cancer specialists, physicians who diagnose and treat a high volume of pancreatic cancer patients, improves outcomes. PanCAN strongly recommends patients consult with pancreatic cancer specialists who have experience diagnosing and treating the disease.
To all doctors providing care for someone with this disease, thank you for the work you do, today and year-round.
Contact Patient Central
for a list of pancreatic cancer specialists or for any other information and resources related to the disease. Patient Central can also provide a list of doctors who will provide remote
second opinions
.