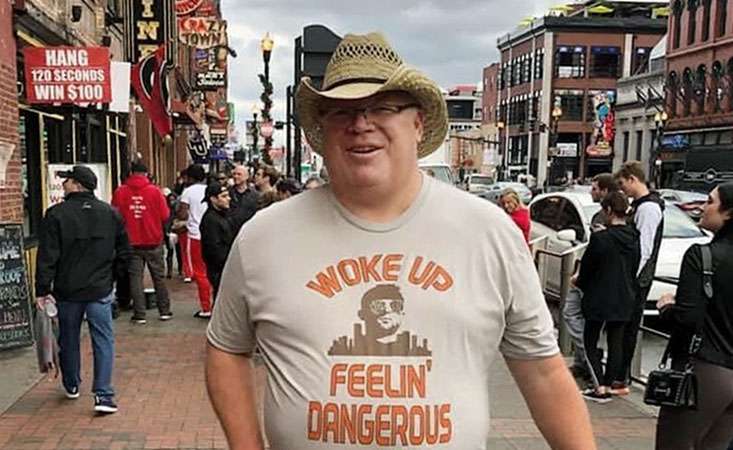 Editor's note: Sadly, Steve passed away shortly after the publication of this story. We are grateful to him for allowing his story to be shared.
"I woke up feeling dangerous."
This well-known line by Cleveland Browns quarterback Baker Mayfield has taken on new meaning in a rural area of Ohio: It has become the rallying cry for a high school teacher and coach fighting pancreatic cancer.
On a trip to Nashville in December 2018, Steve Urchek had to have some hot chicken. Spicy foods had never bothered him before. The chicken did. Something seemed wrong, but it passed, and Steve went back home to life as normal.
Returning to his classroom in January despite a nagging stomachache, a few concerned students approached Steve to say he looked "orangish-yellow."
That got Steve's attention. He and his wife headed to the emergency room.
Several tests, a biopsy and two days later, Steve received a pancreatic cancer diagnosis.
A photo of Steve wearing a T-shirt featuring the famous Baker Mayfield quote got his community's attention on social media. They latched onto the phrase, and "I woke up feeling dangerous" became their rallying cry to show Steve their support.
Steve met with a healthcare team at a Cleveland center that treats a high volume of pancreatic cancer patients.
Feeling comfortable with and confident in that team – and lucky to be eligible for surgery – he started three months of chemotherapy and then had the Whipple procedure.
Recovering from the surgery wasn't easy, but he didn't have many complications. Three more months of chemotherapy followed.
In August, less than three months after his surgery, Steve was hitting golf balls and fishing.
Scans as late as October showed no evidence of disease.
But his CA19-9 levels started increasing at the end of 2019. A CT scan found a cancerous nodule in his lung. He was feeling good, so he and his team decided to wait and see what happened before starting another treatment.
Excruciating pain hit Steve in June. He and his wife were moving, and he thought he had injured himself during the process. For several weeks, Steve suffered sleepless nights and pain that would not go away, even with painkillers.
The cancer had advanced. The tumors in his lungs had grown, and it had returned to his pancreas.
He was poised to start another standard chemotherapy regimen when his oncologist called and asked if he wanted to join a clinical trial.
"He didn't need to convince me at all," Steve said.
The Pancreatic Cancer Action Network's (PanCAN) Patient Services can run a personalized search to find trials that meet patients' needs.
The trial is testing a combination of an approved chemotherapy, an immunotherapy drug that is approved for a small portion of pancreatic cancer patients (Steve isn't part of that group) and an experimental immunotherapy.
"I felt very fortunate to be able to get this experimental treatment through a clinical trial," Steve said.
It worked well for him. His pain instantly went away, and his quality of life is good. His healthcare team adjusted chemotherapy doses along the way and gave him additional treatment to address low white blood cell counts. He's on a new chemotherapy regimen now.
Steve has also appreciated having information and tools from PanCAN's Patient Services to address side effects. "It helped me dramatically that there was stuff I could do to feel better, like controlling my diet. When I get chemo, if I eat certain foods, the symptoms get worse. Knowing not to eat those helped so much."
Though he can't teach or coach right now, he's finding ways to stay occupied. He walks his dog, gardens, fishes (with fishing lures he now makes).
"It's been a roller coaster ride over the last two years. But with all the help from my family, community and medical team, I've been able to grind through it."
His school and community continue to rally around him. On Alumni Day at his alma mater, Kent State, right before his surgery, he threw out the first pitch at a game of the baseball team he once played for.
And his wife Sharla "has been the unmovable force for me and my battle with pancreatic cancer." She takes care of him physically, supports him emotionally and inspires him to keep going. He knows it's hard on her, too – but she never complains.
He's found support groups and online groups incredibly helpful, too. "You hear that other people have the same things going on, and it puts your mind at ease. You understand that this is just part of the process."
His advice to others facing this disease:
The coach approaches this disease like he would ask his team to approach a big game.
"No matter what the odds were against us, I always went into a game knowing I had a chance. Someone has to win – why can't it be us?"
This football season, as the avid Browns fan has watched Baker Mayfield being "dangerous" on the field, Steve also feels dangerous against his biggest opponent, pancreatic cancer.
Any treatments, including clinical trials, mentioned in this story may not be appropriate or available for all patients. Doctors take many things into account when prescribing treatments including the stage and type of cancer and the overall health of the patient.