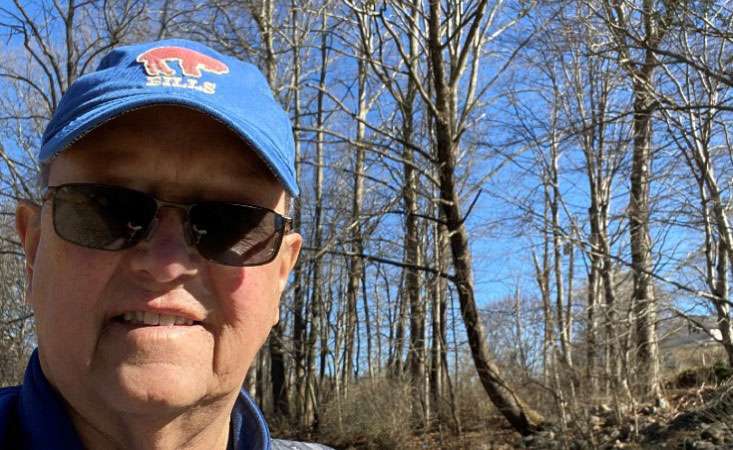 "I've been an advocate for following the science throughout my journey," survivor Jeff Eidens says. And PanCAN Patient Services has been a proud partner in helping him do that.
Jeff's mild stomach pain in 2018 was originally diagnosed as gastric reflux. But when the pain persisted, Jeff sought out a gastroenterologist, who found the true cause: stage IV pancreatic cancer.
PanCAN recommends three key steps at diagnosis, called the "Right Track": See a pancreatic cancer specialist, consider a clinical trial and get genetic and tumor biomarker testing. Jeff did all three of those things.
His local oncologist had recommended a standard of care chemotherapy, but Jeff wanted a second opinion. The specialist he saw in Buffalo, N.Y., recommended a chemotherapy clinical trial, and Jeff jumped on it.
The clinical trial he participated in was blinded, which means that he doesn't know if he got the investigational treatment. But all participants got standard chemotherapy as a base, and half also got an investigational targeted therapy drug.
He and his wife had to spend a lot of time in Buffalo during the trial and were traveling back and forth from their home in Tennessee for about six months. It wore on them. Since the same trial was running in Tennessee, Jeff was able to transfer to the other trial site closer to home.
His cancer appeared to be responding well to the treatment. But unfortunately, his immune system didn't respond so well to it. His white blood cell count was too low, and he had two bouts of sepsis. The trial wasn't an option anymore.
So, Jeff and his team looked at other treatments. Early in his journey, Jeff had genetic and biomarker testing done through PanCAN's Know Your Tumor® precision medicine service.
"I'm a science guy, and I wanted the best possible chance to beat this disease," Jeff says. "I wanted to know the characteristics of the tumor to match, as much as possible, to my treatment for the cancer."
Every pancreatic cancer patient is different, and patients who receive treatment based on their biology can live longer. PanCAN strongly recommends all pancreatic cancer patients get genetic testing for inherited mutations and biomarker testing of their tumor tissue as soon as possible after diagnosis to help determine the best treatment options. Contact PanCAN Patient Services for more information.
Though there were no approved treatments that targeted changes found in Jeff's DNA or tumor, the Know Your Tumor report highlighted a standard chemotherapy that Jeff and his team decided was the best next option.
He's doing well on that chemotherapy. His primary tumor is shrinking, the spots on his lungs are stable and his CA 19-9 tumor marker numbers have dropped to normal levels after being extremely high at diagnosis.
He's fatigued for several days after treatment and has neuropathy (numbness, tingling or burning) in his legs and feet. He's also on medication to manage his low white blood cell count. But in general, he's feeling good.
Jeff is grateful he's had PanCAN Patient Services with him along his journey. "PanCAN is a one-stop shop to find information and get support, whether it's about clinical trials, Know Your Tumor or contacting others in the fight against pancreatic cancer."
He tells others diagnosed with this disease, "Don't give up. Advocate for yourself, and get support from others," including friends, family (his wife and kids have been an integral source of positive support and encouragement) and other resources available to you, like PanCAN. "Study the cutting-edge science and the clinical trials that support that science.
"There's a wealth of information and support if you just reach out to PanCAN."
Contact PanCAN's Patient Services
for support and information about pancreatic cancer treatment, including our Know Your Tumor service, or anything you need throughout your pancreatic cancer journey.
Any treatments, including clinical trials, mentioned in this story may not be appropriate or available for all patients. Doctors take many things into account when prescribing treatments, including the stage and type of cancer and the overall health of the patient.