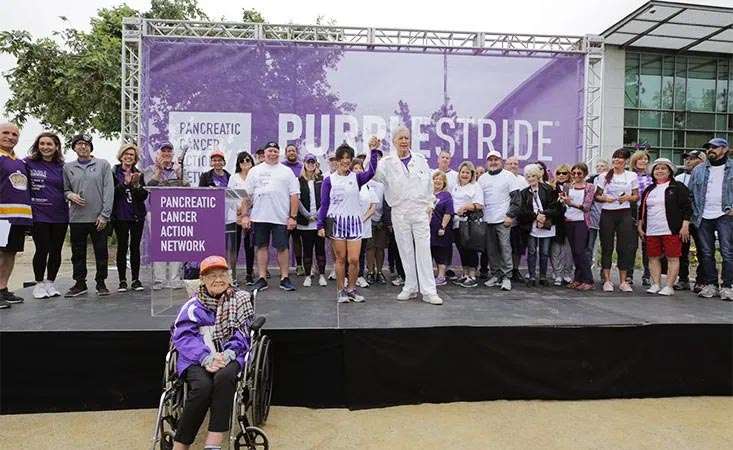 One year ago today, on Nov. 8, 2020, the world lost a friend in "Jeopardy!" host Alex Trebek when he passed away of pancreatic cancer.
Still today, Alex's positive impact on the pancreatic cancer community continues to be felt.
He courageously used his kind and familiar voice to educate the world about a disease that's rarely discussed. When he shared his diagnosis and treatment, he helped people understand options that may be available to them. And his public discussion of physical and emotional symptoms raised more awareness of a type of cancer that is often diagnosed at a late stage – possibly helping others to have better outcomes through early detection.
Alex announced his diagnosis on March 6, 2019. Just two months later, he was surrounded by fellow survivors at PanCAN's PurpleStride Los Angeles event. "Jeopardy!" staff and friends formed Team Alex in his honor, a group 200 people strong that raised nearly $60,000 to support PanCAN's mission.
After his passing, Julie Fleshman, JD, MBA, president and CEO of PanCAN, said: "We will forever be grateful for the awareness he brought to the disease and the cause – and especially his openness in sharing his experiences."
Alex died during Pancreatic Cancer Awareness Month. This November, PanCAN is focusing on the importance of testing.
A new public service announcement featuring actress Jen Landon, daughter of late actor Michael Landon, spotlights this topic as part of PanCAN's "Talk. Test. Take Control." campaign that encourages a conversation with your doctor about genetic and tumor tissue biomarker testing if you are a pancreatic cancer patient and genetic testing if you are a first-degree relative of someone diagnosed.
Having a first-degree relative (a parent, child, or sibling) with pancreatic cancer can increase familial risk. The National Comprehensive Cancer Network and PanCAN recommend genetic testing if the person in the family with pancreatic cancer was found to have a genetic mutation, didn't have testing done, or if family members are not sure if the results were positive for a genetic link.
Read more
about genetic and biomarker testing in our Q&A with PanCAN Chief Science Officer Lynn Matrisian, PhD, MBA.
Jen Landon decided to have genetic testing to see if she had a familial link to pancreatic cancer.
"It was important to me to take control of my health," Jen said. "Testing is about advocating for yourself. The more you know, the more you can take power back. And that is so important with this disease."
When pancreatic cancer is detected earlier, and in a more treatable stage, patients can have access to more treatment options, leading to better outcomes. PanCAN Patient Services can help you learn more about the types of testing, genetic counselors, and screening programs available.
Here are five things you can do to get involved in Pancreatic Cancer Awareness Month this November.
Contact PanCAN Patient Services
for free, comprehensive information about pancreatic cancer symptoms, risk factors, genetic and biomarker testing, and more.
This article written by Jamie Foltz, PanCAN volunteer with the Columbus (Ohio) Affiliate.