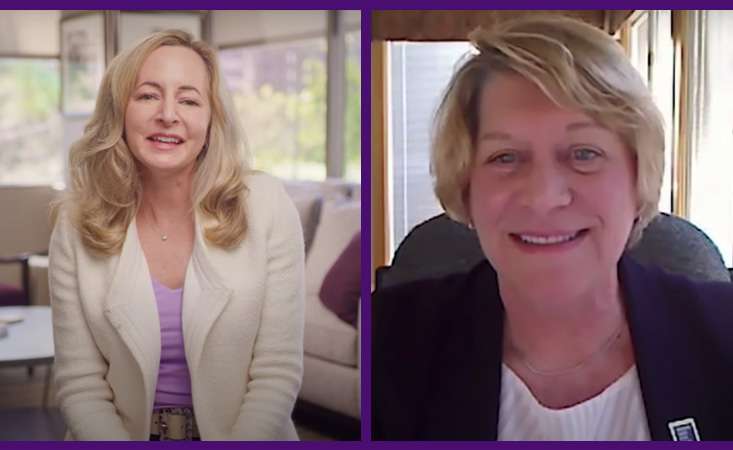 "As someone who has been following the pancreatic cancer field for more than 20 years now, although we still have a lot of work to do – wow – have we made a lot of progress. I feel so hopeful that we are getting closer to potentially having an early detection test for this disease."
Those were the words of PanCAN President and CEO Julie Fleshman, JD, MBA, as she closed PanCAN's "The Latest in Early Detection" educational webinar with tremendous hope and gratitude for the progress being made. The webinar took place in conjunction with the announcement of PanCAN's Early Detection Initiative. Fleshman moderated the webinar featuring an expert panel:
Lynn Matrisian, PhD, MBA – PanCAN Chief Science Officer
Rosalie Sears, PhD – Co-Director of the Brenden-Colson Center for Pancreatic Care at Knight Cancer Institute and Krista L. Lake Chair in Cancer Research, Oregon Health & Science University; PanCAN grantee and member of PanCAN's Scientific & Medical Advisory Board
Brian M. Wolpin, MD, MPH – Chief of the Division of Gastrointestinal Oncology and Robert T. & Judith B. Hale Chair in Pancreatic Cancer at Dana-Farber Cancer Institute and PanCAN grantee
Who is at high risk for developing pancreatic cancer?
The first question posed to the panelists was how to define people who may benefit from screening for pancreatic cancer.
"If we were trying to find out if a pancreatic cancer test works by screening the whole American population, we would find 13 cases in 100,000 people – that's 0.01%," Matrisian said. "The way to do that much better and much more feasibly would be to use a high-risk group, where you could find one pancreatic cancer case per 100 people – a 1% chance."
The goal therefore is to evaluate a test in a group of people at risk for developing pancreatic cancer who have not yet been diagnosed with the disease. Then, researchers can determine whether the test has the ability to detect pancreatic cancer early, before symptoms arise.
One group who's been well studied and at elevated risk for pancreatic cancer is those who have a family history or known genetic syndrome that predisposes to pancreatic cancer. Wolpin said, "National guidelines have changed and now state that all patients who present with pancreatic cancer should have genetic testing for inherited mutations.
"We've realized that between 5 and 10% of all patients who present with pancreatic cancer will have a mutation that was inherited that predisposed them to the disease."
A patient's genetic makeup – as well as the biological characteristics of their tumor – can inform whether certain treatments may be most effective for them. Equally important, Wolpin said, is something called "cascade testing." Through cascade testing, family members can be offered genetic testing if a patient is found to have an inherited genetic mutation or if their results are unknown. This helps family members understand their risk so they can be monitored for the disease if needed.
Matrisian addressed another potentially high-risk group: people with new-onset diabetes.
Matrisian explained that scientists have known for some time that pancreatic cancer can cause diabetes. Cancer cells in the pancreas can disrupt the cells that regulate blood sugar, which can lead to diabetes. Only recently, though, have researchers begun considering diabetes an early symptom or clue that could lead to earlier detection of pancreatic cancer. PanCAN is studying this connection now.
Individuals with pancreatic cysts are another group who may benefit from routine screening for pancreatic cancer. Sears described that cysts are small fluid-filled growths that can occur in the pancreas. They are relatively common in older adults and often found through routine imaging that is done for other reasons. "Most of them are not cancerous," Sears said, "and yet they are a bit worrisome, and they do require follow-up."
Follow-up for cysts could include characterization of the type of cyst. For example, cysts known as intraductal papillary mucinous neoplasms (IPMNs) have a higher likelihood of progressing to cancer than other cysts. Tests can include imaging as well as analyzing samples of fluid from within the cysts.
What tests are available now and in development to detect pancreatic cancer earlier?
Since the pancreas is located deep in the abdomen, and symptoms of pancreatic cancer can be vague, we need better ways to find out if the disease is present. Wolpin explained that biomarkers help you understand the biology of a patient and have these key characteristics:
They can be reliably measured.
They can be found in a body fluid or tissue (e.g., blood, urine, tumor tissue).
They are related to the biology or physiology of the patient.
When looking for biomarkers to help detect pancreatic cancer early, Wolpin described characterizing them as risk biomarkers or detection biomarkers. A risk biomarker could be an inherited mutation or other change in a person's DNA that suggests they're at an elevated risk for developing the disease.
A detection biomarker could signify that a person has pancreatic cancer now, before it's been diagnosed through other methods. "Detection biomarkers either try to find the cancer when it's asymptomatic or find it early when the patient has some symptoms that may be subtle or nonspecific," Wolpin said.
For blood-based tests, detection biomarkers could be fragments of DNA – looking for mutations or structural changes that show the DNA came from cancer cells – or proteins, like CA19-9. Although CA19-9 is commonly used to monitor whether a patient's tumor is responding to treatment, its value as a detection biomarker is still being studied. Some panels of biomarkers that are currently being evaluated in patients include CA19-9 along with other markers.
Sears described a blood-based test, called IMMray™ PanCan-d, that is in development from a company called Immunovia. It tests for a panel of biomarkers related to how a person's immune system responds to the presence of a pancreatic tumor. It has been tested in blood samples from people who already have pancreatic cancer and compared to healthy, symptomatic and at-risk controls. The test was found to be sensitive (able to correctly identify pancreatic cancer cases, even in their early stages) and specific (able to correctly identify the absence of pancreatic cancer). The company is now working on forward-looking studies to determine whether it can detect pancreatic cancer cases before diagnosis through ongoing studies.
In addition to blood-based tests that are specific for pancreatic cancer, there are also "pan-cancer" tests, which can detect many different cancer types through one test. Sears said, "These pan-cancer tests are looking toward a way to screen the general public – a test you'd receive every time you went into the doctor's office for a physical exam."
Some pan-cancer blood tests aim to find DNA biomarkers that indicate the presence of cancer cells as well as identify specific "tags" on the DNA that show which part of the body the cancer cells came from. Two pan-cancer blood tests that are being evaluated in large-scale studies now are CancerSEEK, developed by Exact Sciences, and Galleri, developed by GRAIL.
Moving from studies of potential biomarkers in the laboratory to validation in a clinical setting is a "long, multistep process," Wolpin said.
Collaboration among researchers and institutions is critical to move research forward. Wolpin described a National Cancer Institute-led group called the Pancreatic Cancer Detection Consortium (PCDC). The PCDC includes academic and clinical centers around the country and is conducting a "biomarker bakeoff" to quickly identify biomarkers that can differentiate blood samples of pancreatic cancer patients from those of healthy people. Results from these side-by-side analyses can determine which tests to move into a forward-looking, interventional study.
PanCAN's Early Detection Initiative is an example of an interventional study. "This means it's being done in real time, with the opportunity to identify patients before they're actually diagnosed with pancreatic cancer, rather than studying them after the fact," Fleshman said.
The Early Detection Initiative, which was announced in April, asks whether imaging at the time of new-onset diabetes could lead to finding a pancreatic tumor earlier, when it's eligible for surgery. Electronic health records at participating institutions will be used to find individuals when they are first diagnosed with diabetes. Then, based on weight and blood sugar changes as well as age, a subgroup will be identified who's at highest risk for having pancreatic cancer.
"This subgroup of people will undergo abdominal imaging to determine whether we can find their pancreatic cancer at an earlier stage, with the goal of defining a protocol that can be used across the nation to screen people over the age of 50 with new-onset diabetes for pancreatic cancer," Matrisian said.
Closing the webinar, Fleshman said, "We are so optimistic about everything we heard today, and I am so excited about PanCAN's Early Detection Initiative.
"Without your support, it wouldn't be possible. Thank you for all you're doing to change the future of pancreatic cancer."
Donate today
to advance research toward better early detection tests and more effective treatments for pancreatic cancer patients.
Watch "The Latest in Early Detection for Pancreatic Cancer" educational webinar and contact PanCAN Patient Services if you have any remaining questions.