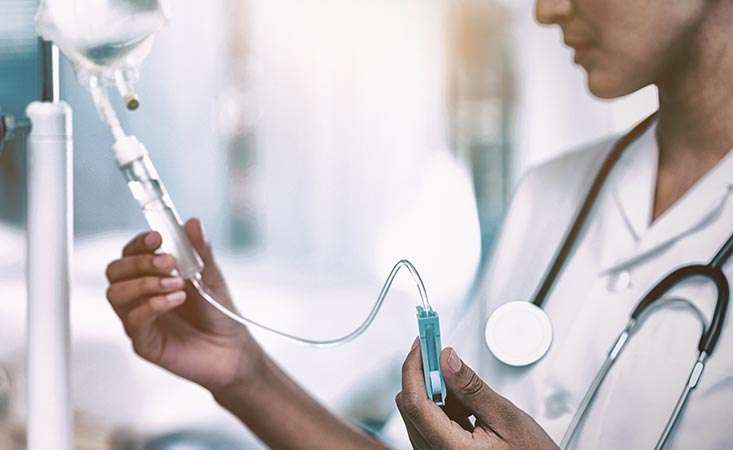 Editor's note: "Jeopardy!" host Alex Trebek and former Sen. Harry Reid have publicly mentioned being treated with an experimental immunotherapy combination for their pancreatic cancer. The Pancreatic Cancer Action Network (PanCAN) strongly recommends clinical trials for all pancreatic cancer patients. Learn more below about immunotherapy and other types of clinical trials aiming to improve pancreatic cancer patient outcomes.
Pancreatic cancer patients who participate in clinical research have better outcomes. And every treatment available today was approved through a clinical trial. PanCAN therefore strongly recommends clinical trials at diagnosis and during every treatment decision.
Contact PanCAN's Patient Services for questions about pancreatic cancer treatment and clinical trials, including a personalized clinical trials search.
There are approximately 170 pancreatic cancer clinical trials currently enrolling patients across the U.S. (Please note that some trials have been affected by the coronavirus disease pandemic and may have been modified or put on hold.)
The goals of pancreatic cancer clinical trials is to determine whether experimental treatment options are safe for patients and more effective than the current standard of care.
Clinical trials may test an experimental drug, treatment approach or combination. They may include standard drugs or approaches (e.g., chemotherapy, surgery or radiation therapy). The experimental approach is compared to the best available standard of care.
Immunotherapy has revolutionized the treatment of some solid tumors, but the strategy has shown limited effectiveness in most pancreatic cancer patients to date.
Immunotherapy involves activating and training the patient's immune system to recognize and attack cancer cells. Turning on the patient's immune system is often not enough, however – cancer cells and their surrounding microenvironment can often block an immune attack. So, many immunotherapeutic approaches include stopping this evasion in addition to activating the immune system.
One type of immunotherapy that has been approved to treat some pancreatic cancer patients is called Keytruda® (pembrolizumab). Keytruda has been shown to be effective in patients with pancreatic cancer and other solid tumors with certain molecular features.
Basing treatment on a patient's biology is known as precision medicine. PanCAN strongly recommends all pancreatic cancer patients get tested – both biomarker tumor tissue testing and genetic testing for inherited mutations – to determine whether certain treatments may be especially effective for them. Both types of test are available through PanCAN's Know Your Tumor® precision medicine service.
Other types of immunotherapy are being tested in patients regardless of their biology.
The experimental treatment combination that Trebek and Reid have mentioned involves several experimental immunotherapy drugs in combination with standard treatments. Clinical trials are underway to determine whether this treatment combination is safe and effective in patients with pancreatic cancer.
We are grateful to both Trebek and Reid for bringing awareness to the disease and to the need for more – and more effective – treatment options for patients. More data will be necessary to determine whether the experimental treatment they're receiving is better than standard of care options.