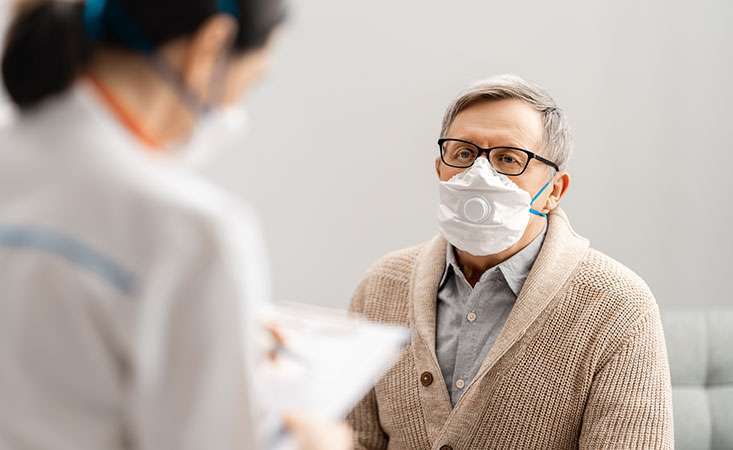 The Pancreatic Cancer Action Network (PanCAN) recommends clinical trials for pancreatic cancer patients. Right now, though, the coronavirus disease (COVID-19) pandemic is causing a lot of challenges and uncertainty around clinical trial enrollment and participation.
It's important for patients and their families to know that, despite these real and significant challenges and concerns, there may still be options to participate in clinical trials at this time.
And PanCAN encourages patients to keep pursuing all aspects of the Right Track – including seeing a specialist, getting molecular profiling and genetic testing, and participating in clinical trials – as much as possible at this time. If you are having trouble with any step, contact PanCAN's Patient Services for support.
Here are some important things to know about clinical trials right now.
1. How trials are operating varies by institution and by clinical trial.
Whether a trial is open to new patients or being adapted during this time depends on the region in which the trial is taking place, the institution running the trial and the elements of the trial itself.
Even within the same city, hospitals may have different policies around their clinical trials. And within the same hospital, not all trials are being treated the same.
For example, certain investigational treatment types are more likely to compromise the immune system and therefore may be considered a greater risk at this time.
Also, the phase of the trial can be a factor. Since phase I clinical trials are designed to assess the safety of an investigational treatment, institutions may stop these trials for now if they are not able to carefully monitor each patient's side effects and experiences.
The primary concern in every clinical trial is a patient's safety. Each institution and trial right now are doing what is necessary to keep patients safe. In some cases, that means a trial may not be open to new patients, or treatment may be paused for patients who are already enrolled.
There are pancreatic cancer clinical trials that are not enrolling patients right now. But there are many trials that are enrolling.
PanCAN strongly advises directly contacting a clinical trial site to learn about its status, active enrollment and any possible delays.
Also, you may be hearing about COVID-19 vaccine trials in the news and the use of placebos in those trials. In contrast, please note that in pancreatic cancer treatment clinical trials, a placebo is never used in place of standard of care. In some clinical trials, a placebo may be added to the standard treatment for comparison reasons. For more information, contact PanCAN Patient Services.
2. The situation is changing quickly.
The two main reasons that clinical trials are being put on hold are trial operation challenges – like when the institution doesn't have enough staff available – or concerns for patient safety. As the coronavirus situation changes, these challenges and concerns may be changing as well.
The coronavirus pandemic has caused increased safety measures and need for healthcare professionals on the front lines. Many hospitals, doctors and researchers had to put new protocols in place, and there were strains on resources in many parts of the country.
Depending on where you live and the institution, hospitals may be more able to handle all of these challenges better now than they were two months ago. For example, some hospitals that were restricting biopsies, especially for research, are starting to lift those restrictions.
This means that a trial that was not enrolling patients last week might be able to do so this week. And for trials that are still closed, trial coordinators may have a better timeline for reopening than they had earlier in the pandemic.
3. Many trials are continuing and being adapted to eliminate unnecessary risk.
The National Cancer Institute (NCI) says, "The health of each clinical trial patient is the institute's most important concern, and NCI is flexible about how clinical trial treatments can be completed and when tests and assessments must be done."
While all testing – scans, blood draws, etc. – in a clinical trial is valuable to the study, trials may typically involve more testing than what is critical to determine the effectiveness of the drug or keep the patients safe. So, many trials are adapting their protocol to skip these additional tests during this period.
Some trials are also adapting to allow patients to access certain parts of the trial, such as standard of care treatments, at centers closer to their homes or coordinated with their local oncologist. There may also be options for telemedicine and check-ins over phone or video.
In fact, there may be fewer logistical barriers for patients who are participating in trials now than before the pandemic.
4. Traveling for a clinical trial can be especially challenging right now.
While many patients are open to traveling to participate in a clinical trial, travel can be difficult – and even potentially dangerous – for patients right now. It is important to consult your healthcare team and to weigh the risk of travel with the potential benefit of the trial.
If you are considering a trial that would require travel, talk with the trial team about options you may have to reduce travel during this time. You will also want to make sure that there are hotels and transportation available, as accommodations have been affected in many places.
It can be incredibly frustrating to try to enroll in trials right now and find that many are closed to new patients. But persistence can pay off.
Contact as many trials as meet your needs. If a trial isn't enrolling patients right now, ask if you can be notified when it reopens. Then, just in case, continue to follow up to ensure that the trial has not opened.
If you are considering enrolling in a trial that is open or are participating in a clinical trial already, talk to your healthcare team about safety and risk, including:
What they are doing to address coronavirus concerns
What to do if you have coronavirus symptoms
Whether there are steps that can be done – like receiving scans or standard of care treatments – at a location closer to your home (if the trial site is not nearby)
How any treatment delays or trial stoppage will be addressed if that becomes necessary due to the pandemic
Also be sure to communicate with your team about any symptoms and side effects you are experiencing.
It is important – especially now – that you feel comfortable with and supported by your healthcare team. If you are not getting the answers you need or feel are right for you, get second and third opinions.
If you need another medical opinion, PanCAN's Patient Services team can provide lists of specialists near you as well as those available to provide remote second opinions.
Clinical trials are just as important for pancreatic cancer patients now as they have ever been. Unfortunately, patients have been experiencing challenges accessing trials at this time.
As the situation evolves, so does access to trials. It is important to continue monitoring the situation, advocating for yourself and communicating with your healthcare team.
And PanCAN is here to help you at any point along the way.