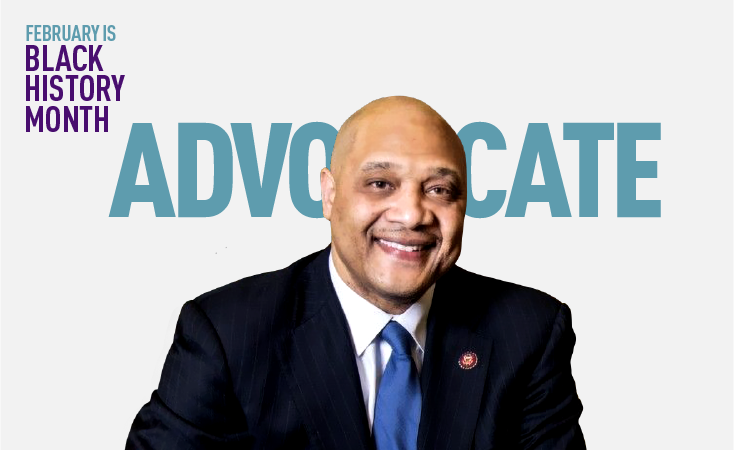 Editor's note: In honor of Black History Month, PanCAN is celebrating the contributions of our community's Black supporters and the amazing ways they're making a difference for pancreatic cancer patients. Today we're sharing a Q&A with André Carson of Indiana, who serves in the U.S. House of Representatives and is a member of the nonpartisan Congressional Black Caucus.
PanCAN: Rep. Carson, why is the pancreatic cancer cause important to you?   
Rep. Carson: Last year, pancreatic cancer robbed us of two American icons: my colleague Congressman John Lewis and Supreme Court Justice Ruth Bader Ginsburg. My friend and colleague, Congressman Alcee Hastings, is currently fighting his own courageous battle against this horrible cancer. The severity and tragedy of this type of cancer, and its disproportionate impact on African Americans, compels me to work to find a cure.
PanCAN: What is the most important thing you can do as a Member of Congress to help us bring attention and funding to pancreatic cancer?
Rep. Carson: There are a lot of things members of Congress can do to support funding related to pancreatic cancer and other diseases. I think the first is awareness; we need to use our platforms to talk and educate people about this deadly disease that is killing thousands of Americans a year. This awareness helps build support for the importance of increased medical research for pancreatic cancer, from both the National Institutes of Health (NIH) and the Department of Defense (DoD). This increased research funding will help us find new ways to detect this cancer earlier and provide desperately needed treatment.
PanCAN: You are a member of the Congressional Black Caucus. What more would you like to do to ensure that the Black community is aware of the higher incidence rate of pancreatic cancer?
Rep. Carson: The COVID-19 pandemic has highlighted how longstanding health disparities, and lack of access to care, result in disproportionate numbers of infections and deaths from the virus in Black communities.
Sadly, the same is true with pancreatic cancer. The incidence rate for pancreatic cancer among Black Americans is 28% higher than that of any other racial demographic and the death rate is 17% higher for Black men than for white men.
In this way, the lack of pancreatic cancer early detection research accelerates the racial inequities in our health care system, with devastating consequences for minorities. That's why I will continue to work with my colleagues and the Congressional Black Caucus to help address pancreatic cancer's unique devastation on communities of color.
PanCAN: How would you like to work with PanCAN to achieve any goals that you may have for this community?
Rep. Carson: PanCAN and other partners were critical in helping Congress secure a historic $15 million for pancreatic cancer research at the DoD through one of my amendments with Rep. Anna Eshoo, in last year's omnibus legislation. This new funding will help find new ways to detect this cancer earlier and work to address the racial disparities in the incidence and deadliness of pancreatic cancer in communities of color. We need to work together to ensure that we maintain this level of research and investment, ensure that it is being spent on key priorities like early detection research, and find additional creative ways to fight this disease.
PanCAN: Tell us more about your interactions with Rep. John Lewis. Do you have a memory that particularly stands out?
Rep. Carson: Shortly before the House voted on the Affordable Care Act, there were large groups of angry people who opposed the bill – they were yelling and shouting, and trying to intimidate and discourage us from voting to make healthcare available to everyone. As I walked across Independence Avenue with John Lewis, in the midst of angry shouts of, "Kill the bill!" and hurling racial insults at us, I will never forget him telling me that it reminded him of another walk he took, and a darker time. And then he encouraged me to keep going and not give up.
I have never forgotten that day and his advice. He lived his life and fought his courageous battle against cancer by never giving up.
PanCAN: In one word, how would you describe how what you do relates to changing lives for pancreatic cancer patients?
Empowerment.
PanCAN: Why do you think people should get involved with PanCAN as advocates?
Rep. Carson: I think it's critical that all Americans get involved as advocates to ensure that Congress' spending priorities match up with research and programs that help keep Americans healthy and find new cures and treatments for deadly diseases like pancreatic cancer.
PanCAN: What would you say to PanCAN advocates who want to encourage their members of Congress to take action on pancreatic cancer?
Rep. Carson: Please get involved! Help us spread awareness about this disease and build a bigger team of family and friends who want to fight this disease.
PanCAN: For our PanCAN supporters who have not yet made their voices heard in Congress, what would you say?
Rep. Carson: I would urge all PanCAN supporters and other advocates to make their voices heard to ensure that their Representatives and Senators are working for them on these critical issues. The Congress works for the people, and without the support from the people on these issues, including medical research, many people will not get the support they need.
Join the movement to create a better future for pancreatic cancer patients.
Get involved today
.