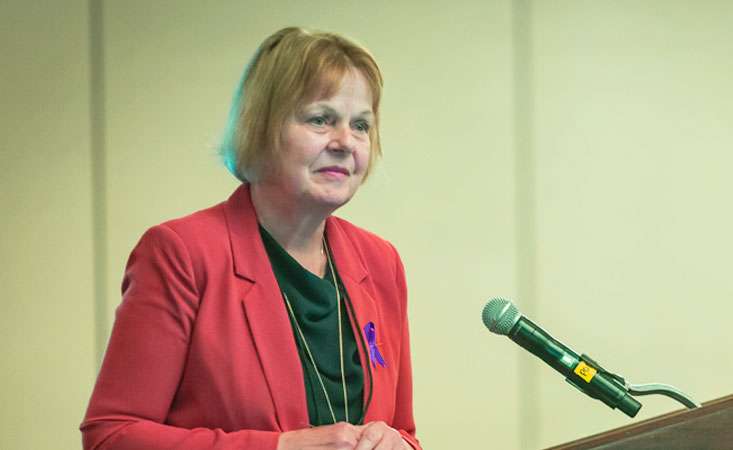 Editor's note: Last week, PanCAN announced its groundbreaking Early Detection Initiative. Today, we share the story of Barbara Kenner, PhD, who was instrumental in supporting this initiative as well as the research that preceded and shaped it.
Barbara Kenner, PhD, has been pursuing an early detection strategy for pancreatic cancer for over a decade.
It began when her husband, Peter, died in 2010 – just two months after his stage IV pancreatic neuroendocrine tumor (PNET) diagnosis.
Peter had gone to the doctor with what he thought was food poisoning, but the doctor felt a mass during the physical exam. It is very rare to feel a mass on the pancreas, since it is deep in the abdomen, surrounded by other organs – and it meant the tumor was very large.
In retrospect, Barbara says, her husband had subtle symptoms in the year or two leading up to his diagnosis. But the changes happened slowly over time. Peter's malaise, fatigue, back pain, loss of muscle strength and change in taste didn't lead anyone to think of pancreatic cancer.
Like most other patients, he was diagnosed when the disease was advanced.
"You hear about screening for breast and colon cancer, and you assume every cancer type has the capability to be screened," Barbara says. "It was shocking to learn that there was no screening test for this disease."
After Peter died, Barbara talked to his primary care physician. "His doctor was devastated," she says. "He told me, 'Go out and find me a way to detect this disease early. I need something in my toolbox.'"
So, Kenner Family Research Fund (KFRF) was established, with a focus on advancing early detection of pancreatic cancer by actively promoting inter-professional strategic collaboration among researchers, government, industry and patient advocacy groups. Early on, Suresh Chari, MD – along with Bill Go, MD, and David Klimstra, MD – joined the foundation's Scientific Advisory Board.
Dr. Chari was instrumental in recognizing that new-onset diabetes can be an early symptom of pancreatic cancer.
Barbara says that Dr. Chari's passion and his belief that new-onset diabetes was a symptom, based on what he had discovered in retrospective studies, was astounding. This was a very different kind of biomarker. However, Dr. Chari needed funding for a prospective (forward-looking) pilot project.
The Kenner Family Research Fund board felt that the study made sense and, along with others who recognized its value, funded Dr. Chari's work. This pilot project provided the foundation for the National Institutes of Health's New Onset Diabetes (NOD) Study and PanCAN's Early Detection Initiative.
The NOD Study – a collaborative effort between many groups, including PanCAN, and involving multiple institutions across the U.S. – is collecting blood samples and patient information from participants who have been newly diagnosed with diabetes and meet other specific eligibility criteria.
PanCAN's Early Detection Initiative will also collect blood samples, which will be pooled with the NOD Study samples, and adds imaging tests to see whether this process is an effective way to find pancreatic cancer earlier in this group.
PanCAN is collaborating with the National Cancer Institute on both studies, which complement each other. Dr. Chari is also one of the leaders of PanCAN's Early Detection Initiative Steering Committee.
Barbara remains involved in both studies and continues to invest in PanCAN's Early Detection Initiative. She has also joined PanCAN's Board of Directors and the Early Detection Initiative Steering Committee.
"It's exciting to think that change is possible," Barbara says of the NOD Study and PanCAN's Early Detection Initiative. "Everyone involved has made a long-term commitment to this effort. And the support of PanCAN is critical, since they have the determination and resources to follow this through."
Over the years, Barbara has seen momentum building for pancreatic cancer early detection. More people have gotten involved in the field, in both the advocacy and research space. Researchers are studying multiple approaches to early detection, from biomarkers to imaging to genetic factors.
Barbara believes that, ultimately, we are going to identify a combination of factors that will qualify someone for pancreatic cancer screening. PanCAN's Early Detection Initiative is the first step – and a very important one, according to Barbara – in validating an approach for people with what research indicates could be one of these factors: new-onset diabetes.
Barbara says, "If we can diagnose the disease earlier, more patients will survive."
You make it all happen –
donate today
to support PanCAN's comprehensive approach to fighting pancreatic cancer, including transformative research programs like the Early Detection Initiative.