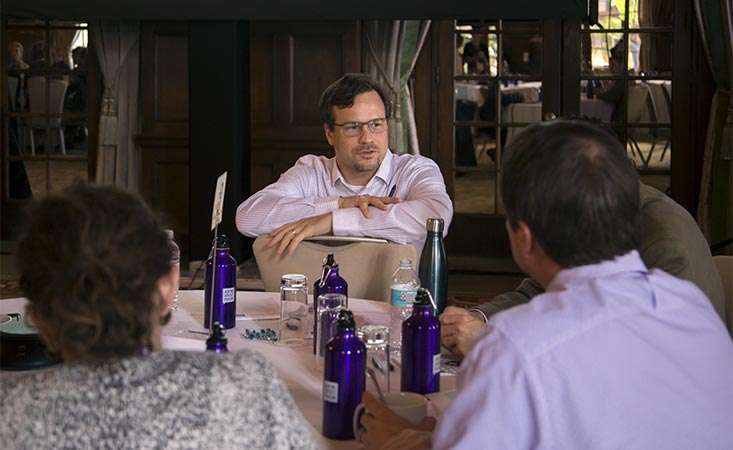 Pancreatic Cancer Action Network (PanCAN) research grantee Kenneth Olive, PhD, is dedicated to keeping his lab as connected as possible during the coronavirus disease (COVID-19) pandemic.
The pancreatic cancer research group meets twice a week via Zoom and stays in constant touch through data-sharing and communications on Slack. They're working together to prepare two papers for submission to biomedical journals.
An associate professor of medicine at Columbia University, Olive is acutely aware of how dramatically COVID-19 has impacted his home state of New York.
So, when he found out from a postdoctoral fellow in his lab that a group of scientists was being organized to help in the fight against COVID-19, he was quick to sign up to join them.
Abbreviated CRAC, for Columbia Researchers Against COVID-19, the group grew by the hundreds overnight. Olive was asked to take on a leadership role, and he is now serving as the team's co-faculty advisor, alongside Eric Greene, PhD.
"As of now, we have over 650 volunteer researchers across many departments, institutes and centers," Olive said. "We cross domains from epidemiology to molecular biology, computational biology and biomedical engineering.
"It is an extraordinary pool of experience that we are working to put to use."
New York has experienced the most COVID-19 diagnoses of any U.S. state to date. "There is no time to lose," Olive said. "The scale of the outbreak in New York City is enormous, and Columbia University Irving Medical Center and other medical centers in the city are on the front lines.
"We need all hands on deck."
The CRAC team has tapped into the varied scientific expertise of its members and provided much-needed support during this crisis. For example, the team has provided experienced staff to Columbia's COVID-19 biobank, helping to process thousands of blood, saliva and other samples from patients.
Crises put us to the test, but they also bring out the best. I cannot fully express my pride in @Columbia. Scientists teaming to respond. Administrators working overtime to help. Heroic caregivers risking their lives for their patients. We will make a difference. You will too.16/

— KenOliveLab (@KenOliveLab) April 1, 2020
Others CRAC volunteers are now serving in round-the-clock shifts at New York Presbyterian Hospital, helping fold and distribute scrubs and hand out food to hospital workers.
And, the team has helped with data management, assisting Columbia's Institutional Review Board manage thousands of ongoing clinical research projects and also building a university-wide database of COVID-19 research projects and opportunities.
Although his work co-leading the CRAC team takes up a lot of time and mental focus, Olive remains committed to supporting his trainees and their lab's pancreatic cancer research efforts.
"We're taking this opportunity to learn more computational and systems biology techniques," said Olive, whose lab focuses on translating scientific findings in the lab to develop new treatment options to benefit pancreatic cancer patients.
In the absence of being able to conduct experiments in the lab with cells, animals or specimens from patients, systems biology allows researchers to build complex mathematical models of biological processes. And, this approach lends itself to remote work.
"Over the past several years, my lab has moved toward more systems biology and computational approaches. Now the experts in our group are helping teach everyone else how to perform complex computational analyses."
Olive paused to note that studies have shown that cancer patients, like those with pancreatic cancer, have been experiencing particularly poor outcomes after infection with COVID-19. To help them, he said, we need to slow down the outbreak long enough for the development of a vaccine.
"Every single person can contribute to that by keeping physically distant."
He continued, "However, I would also add that while keeping physically distant, we should keep socially CLOSE! The psychological impact of this pandemic will be severe. Check in on your friends, families and loved ones. This is a time to pull together, be patient and take care of one another."
Olive wants to leave the pancreatic cancer community with a note of optimism: "We are all in for a difficult time. But I am convinced that the combined efforts of the world's caregivers, responders, scientists and volunteers will make a difference.
"We will slow this thing down, develop the tests, create the vaccines and ultimately bring this pandemic under control.
"Then we can all get back to doing the things that we were doing before, but hopefully with a lasting pattern of increased cooperation and understanding going forward."
Donate today
to help PanCAN continue to support patients and caregivers through their pancreatic cancer journeys during these uncertain times, and to allow us to continue to fund truly remarkable scientists like Dr. Olive.