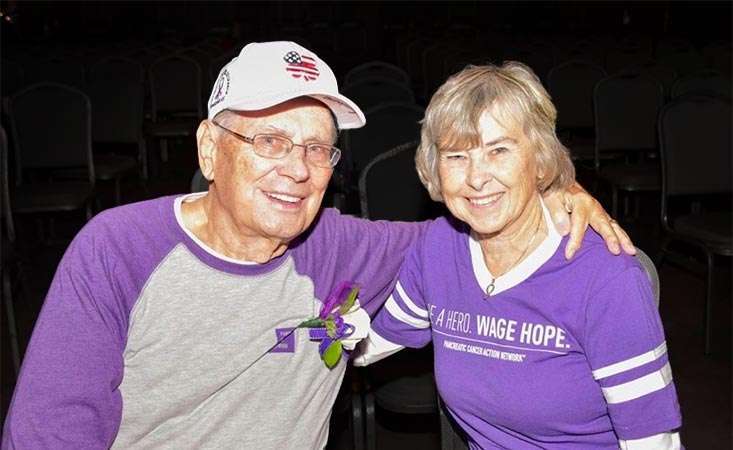 Editor's note: Today is National Cancer Survivors Day and we celebrate all pancreatic cancer survivors, whether they were diagnosed today or have lived with the diagnosis for years. All week long, we'll feature more inspiring stories of survivors.
Las Vegas survivor Carl Brunson lives by the motto, "living lucky."
For him, the expression means more than thriving through stage IV pancreatic cancer. It's a nod to never looking back – only forward – and advocating for himself, even after being told by countless doctors there was nothing that could be done to save his life.
"Luck is a mindset; it's having a positive mental attitude," said Brunson, 80, who calls this mindset, "PMA."
"I was told by three local doctors at three different hospitals that I had no options and should prepare to die. I refused to believe that as my truth and sought care and advice elsewhere."
Shortly after his diagnosis in 2017 at age 77 – and after hearing he had no options – Brunson's family found the Pancreatic Cancer Action Network (PanCAN) and reached out to its Patient Services for free, in-depth and personalized resources and information on the disease.
"Before I even had my pathology report back, I received resources from PanCAN," Brunson said. "It laid the groundwork for my treatment plan and led me to the expert medical and surgical teams who put my disease into remission."
This medical team required Brunson to leave Las Vegas for Los Angeles, where he and his wife of 56 years, Bonnie, spent six months living with their daughter and her family while he underwent chemotherapy at UCLA.
Before starting chemotherapy, however, doctors told Brunson he wasn't a candidate for surgery because of his age and stage of his disease.
"My response was, 'If there's a 1% chance I'll survive surgery and this disease, I am taking that 1% chance when the time comes,'" Brunson said.
"I had to look forward. I couldn't imagine letting my family down or not making it through my ever-growing bucket list of experiences left to accomplish."
After six months of chemotherapy, Brunson went home to Las Vegas to try a different chemotherapy regimen.
The side effects he experienced from the combined treatments were taxing. Brunson experienced countless issues, ranging from neuropathy, which is more common, to a rarer side effect of drop-foot.
Understanding response to treatment is individual, he took the side effects in stride, remaining committed to keeping a positive mental attitude and grounded in the belief that he was lucky to be given chemotherapy in the first place.
"If I had listened to the first doctors who told me I shouldn't even attempt chemotherapy, I would have died," Brunson said.
"Yes, this journey is tough. But I still get to play golf, fish, drive my motorhome and car and spend time with my family – my support team. I want other patients to know they can go on with their life and continue to fight if they advocate for themselves."
It was while Brunson was home in Las Vegas and still undergoing treatment that he and his wife attended their first PanCAN PurpleStride, the walk to end pancreatic cancer. The experience was "eye-opening," and even speaking about it today brings Brunson to tears.
"There were about 2,000 people walking that day, but when they asked for the patients and survivors to come and be recognized at the stage, there were less than two dozen," Brunson said. "That took a hold of me. I told Bonnie, 'We have to do more with PanCAN to help.' It was devastating."
It was this experience that led Brunson and his wife to become PurpleStride fundraisers and generous individual donors. With the support of their family, friends and community, the Brunson's 2020 PurpleStride team alone surpassed their goal to raise more than $22,000.
Their key to success, Brunson said, is year-round fundraising for the once-a-year walk.
"You can't always ask the same people for money, so we think creatively and network continuously in order to raise funds for this important cause," Brunson said.
Most recently, the couple hosted a fundraising barbecue at their favorite travel destination – a motorhome park in Idaho.
"Every attendee got a 'Living Lucky' hat and delicious meal, regardless of the amount of their donation," Brunson said. "You can find fun ways to turn almost any event or activity into a fundraiser."
Today, Brunson is continuing to focus on keeping a positive mental attitude, while adjusting to a new reality – after his medical team declared he had no evidence of disease this past March.
The news came two months after Brunson underwent a nine-hour pancreatectomy procedure in January 2020 – incredibly rare for someone with stage IV disease and something he was once told would never happen.
"Three years ago, I was told I had no chance at surgery or surviving this disease," Brunson said.
"Now, after advocating for myself, undergoing that 1% surgery, relying on my family and PanCAN, and keeping the faith, my cancer is gone. I look at life very differently now and am truly living lucky."
Contact PanCAN's Patient Services
for information about the diagnosis, treatment and management of pancreatic cancer and connecting with other survivors and caregivers for support.
Any treatments mentioned in this story may not be appropriate or available for all patients. Doctors take many things into account when prescribing treatments including the stage and type of cancer and the overall health of the patient. 
Written by Cara Martinez