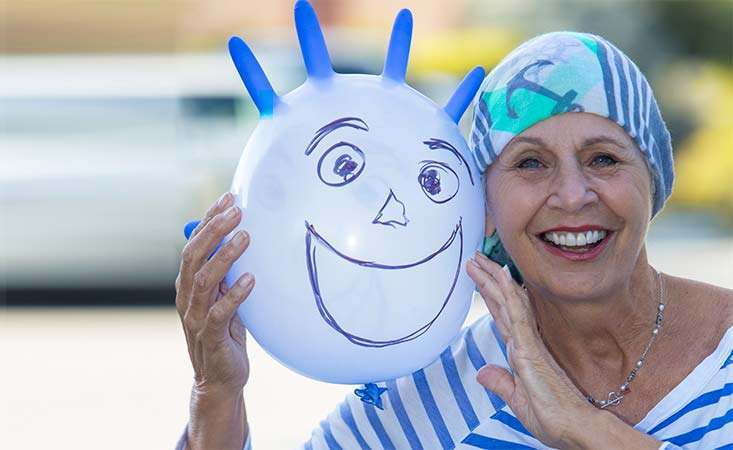 Editor's note: In honor of National Cancer Survivors Day® on June 2, 2019, we are highlighting stories of several pancreatic cancer survivors who have graciously shared with us their poignant moments that have mattered during their cancer experience. We hope these moments leave you feeling as inspired as they have us!
Gil Marchman
For Gil Marchman, a 20-year survivor who serves on the Pancreatic Cancer Action Network's (PanCAN) Survivor Council, one of the moments that stands out during his cancer experience is:
"It was 2007, and PanCAN was hosting its 10th anniversary of its Evening with the Stars gala. PanCAN President and CEO Julie Fleshman spoke about the progress that had been made in the field and asked the one-year survivors to stand. Everyone applauded. Then she asked for the two-year survivors to stand. Again, everyone applauded. Next, she had the five-year survivors stand, and they also received a great hand of applause. They sat down, but a young lady and I were still standing. 'Julie,' I yelled. 'You forgot something!' Everyone laughed. Julie asked how long our survivorships were. The young woman said, 'Six years,' and I said, 'Eight, going on nine.' It was an inspiring moment for the room."
John O'Grady
John O'Grady is an eight-year pancreatic cancer survivor. When thinking back on the standout moments of his journey – from pancreatic cancer patient to Survivor & Caregiver Network volunteer – O'Grady reminisced about one moment that stood out to him from PurpleStride Washington, D.C., where his handmade survivor quilt crafted from a patchwork of PurpleStride T-shirts was on display.
"As the walk started, I stayed back to take in the beauty of the event – all the volunteers, participants and teams who worked so hard to raise funds, the sponsors who are proud to put their name out there with support. That's when I saw an elderly woman standing in front of my quilt, deep in thought. It turned out that she was a retired oncologist. She told me that when she was practicing medicine, she had little to no resources to help people with pancreatic cancer. To her, [my] quilt represented progress. Seeing all the survivor shirts and realizing how far we've come, she was crying tears of joy. She was thinking about all the advancements that have been made in treatment and she saw a bright future."
Steven Yedwabnick
Thirteen-year survivor Steven Yedwabnick volunteers with PanCAN in Sioux Falls, S.D. One of his goals this year is to start a survivor and caregiver connection group in his area with his wife, Sue, so that more patients and families can share moments that matter.
"I'm always willing to talk about my journey if it will help someone else. I want to see constant improvement in treatment options and patient care and to give hope for all those suffering from this disease."
Karen Kiernan
Karen Kiernan, a two-year pancreatic cancer survivor, recalled the moment she learned that her molecular profiling results, made possible by PanCAN's Know Your Tumor® service, revealed that her tumor might respond well to an immunotherapy drug called Keytruda.
Within a week of beginning treatment, she began to feel like herself again. Her back pain subsided and when she stepped on the scale, she noticed she had gained two pounds. To date, Kiernan's scans continue to be stable.
With this new lease on life, Kiernan is looking forward to more happy moments with her husband, three children and seven grandchildren, including baby Charley who was born earlier this year.
"I know I'll always be on treatment. But because I'm feeling better, I'll get to do more of the things I love."
Maryann Grau
Author and survivor Maryann Grau's gift of humor has proven invaluable on her cancer journey. She was diagnosed in 2016.
Her recently published book, Cancer and Fishnet Stockings, discusses the low points of cancer but remains hopeful in tone and is filled with bright moments. In one such moment, she writes about her "chemo buddy," a latex glove that her partner inflated like a balloon and drew a cheery face on to keep her company during treatment. 
"It gave everyone a good laugh – it brought sunshine into the room. [I chose] laughter over tears, because without the ability to laugh, the urge to surrender would be too strong."
Diane Borrison
Diane Borrison, a 12-year pancreatic cancer survivor, longtime volunteer for PanCAN and a Survivor Council member, recalled at PanCAN's 20th anniversary celebration that:
"We all have moments we remember, tied to dates we will never forget. My never-to-be-forgotten moment was seeing the Recalcitrant Cancer Research Act pass the U.S. Senate and knowing it would become law. Thousands of passionate volunteers had worked tirelessly for years – and responded to PanCAN's leadership – for the passage of this bill and to change the course of pancreatic cancer. My dream is that funding for pancreatic cancer research becomes a national priority, and with your help that dream will come true."

Matt Wilson
Matt Wilson, a seven-year pancreatic cancer survivor who is co-chair of PanCAN's Volunteer Advisory Council and a long-standing volunteer leader, shared:
"As I reflect on being seven years pancreatic cancer-free, there are moments that have shaped where I am now and moments that keep me motivated for the future. The moment I woke up after my surgery and saw my mom, she said, 'I'm excited to see what is in store for you.' In that moment, I knew I needed to use, to the best of my ability, this second chance I had been given." 
Share a moment
that has mattered in your pancreatic cancer journey. Post it on your social network using #MomentsMatter.