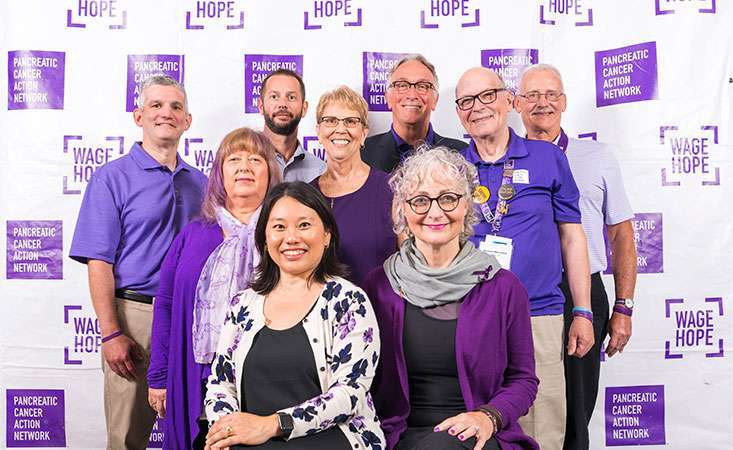 The Pancreatic Cancer Action Network (PanCAN) is pleased to welcome five new members to its Survivor Council. Established in 2016, the Survivor Council ensures that the pancreatic cancer survivors' voice, experience and expertise are integrated into the organization's programs and initiatives.
The new members include Teona Ducre, Karen Pratte Kiernan, Steve Nelson, Nick Pifani and Anne Shimabukuro. They're joining current Council members Ralph Cheney, Dennis Cronin, Roberta Luna, Cathy Schwandt and Michael Weinstein.
"Each Survivor Council member has a unique experience with pancreatic cancer, from diagnosis to treatment to living with the disease," said Julie Fleshman, JD, MBA, president and CEO of PanCAN. "Together, they provide invaluable insights that allow us to continuously enhance our patient services while supporting even more patients and their loved ones."
We caught up with the new members and asked what they're most looking forward to bringing to the Council. Here are their responses.
"As someone who was diagnosed in my early 40s and who is also African American, I hope to bring a diverse perspective and share some of the challenges that might be unique to people who are diagnosed younger and in various socioeconomic environments. I also hope to create dialogue around not only the physical impacts of long-term survivorship but also how this disease impacts the whole person including mental health, finances, career and family impacts." — Teona Ducre
"As a survivor living with stage IV pancreatic cancer for over two years, I want to be a role model for others. I want to Wage Hope. I want to show patients and their families that they too can live a beautiful, full life with good quality with this disease. I am a retired registered nurse who has always been passionate about medical education. In this role, I look forward to sharing my voice and speaking on behalf of others who are fighting the disease." — Karen Pratte Kiernan
"I want to Wage Hope by showcasing the value of being proactive and utilizing early detection methodologies in the fight against pancreatic cancer. If someone has reason to believe they may be at risk, genetic testing and regular screenings could save their life." — Steve Nelson
"Being part of the Council is a true honor and privilege. As a pancreatic cancer survivor and advocate, I look forward to bringing my positive attitude and experience to the group. I also plan to leverage my platform in business to increase awareness and drive funding. And I look forward to making wonderful friendships." — Nick Pifani
"I hope to bring the patient's voice to PanCAN. Although my cancer was diagnosed early and was treated successfully, we also lost a family member to pancreatic cancer. I hope to bring these different perspectives to the Survivor Council." — Anne Shimabukuro
"Our Survivor Council members stand with us – whether we're advocating on Capitol Hill, mobilizing local communities or connecting with patients and their families," Fleshman said. "We look forward to working with the new and existing members and thank the members who've completed their terms. Their years of service is marked by their incredible vision and guidance, and they have been an inspiration to us all."
The newly elected members will serve on the Council from July 2019 to June 2022.
Are you fighting pancreatic cancer or know someone who is?
Contact Patient Services
for support resources and pancreatic cancer-related information.