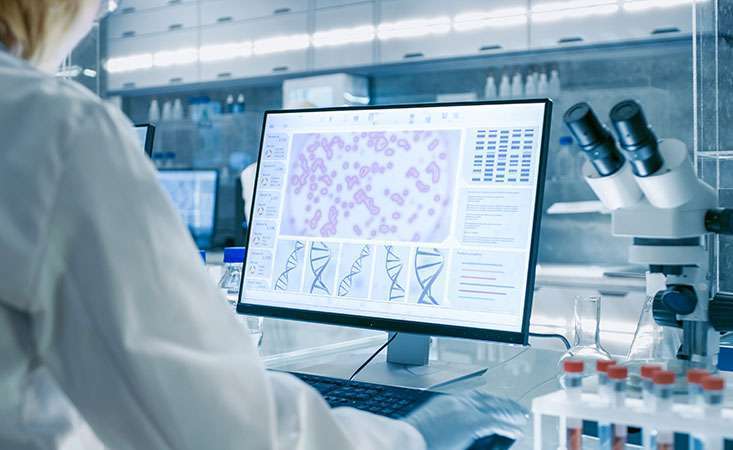 Every pancreatic tumor – and every pancreatic cancer patient – is different. The Pancreatic Cancer Action Network (PanCAN) strongly recommends molecular profiling of your tumor to help determine the best treatment options.
It's important for everyone diagnosed with pancreatic cancer to work with their healthcare team to come up with a personalized treatment plan.
Taking a precision medicine approach through molecular profiling provides patients and their healthcare teams details about the unique biological characteristics of their tumor – information that can help guide treatment decisions.
Check out five important facts about precision medicine for pancreatic cancer patients:
Treatment that aligns with a patient's tumor's biology may lead to improved outcomes. Through scientific and clinical research, PanCAN and others have shown that pancreatic cancer patients who go on treatment that aligns with their tumor biology have better outcomes.
About 27 percent of pancreatic cancer patients have "highly actionable" alterations in their tumors. "Highly actionable" alterations refer to molecular changes within the tumor that predict a response to a certain type of treatment. This could be based on scientific or clinical evidence in pancreatic cancer or in other cancer types.
Patients can access molecular profiling from their treating institution, participation in a clinical trial or through Know Your Tumor®. PanCAN's Know Your Tumor precision medicine service provides patients and their healthcare teams with the molecular details of their tumor, along with a report that lists personalized treatment options.Treatment options can include medications approved for pancreatic cancer, medications approved for other cancers or clinical trials. To date, more than 1,000 pancreatic cancer patients have received reports through Know Your Tumor.
Germline genetic testing can also inform treatment decisions. While molecular profiling evaluates alterations in the tumor tissue (from either the primary tumor in the pancreas or a metastatic tumor), genetic testing of the patient's blood or saliva can detect mutations they were born with that are present in every cell of their body.New National Comprehensive Cancer Network (NCCN) guidelines have enhanced recommendations around germline genetic testing and tumor molecular profiling for patients with pancreatic cancer.

Enrollment in PanCAN's Know Your Tumor can provide information about both germline genetic changes and tumor molecular changes.

There are several types of treatment available to pancreatic cancer patients whose molecular profiles show certain characteristics. Currently, there are two treatment options that are FDA-approved for any type of solid tumor, including pancreatic tumors, with certain molecular characteristics.Patients whose tumors show high microsatellite instability or defective DNA mismatch repair can receive an immunotherapy drug called Keytruda®. And, patients whose tumors have an alteration known as an NTRK fusion can receive a targeted therapy called Vitrakvi®.

Recent evidence also suggests that another type of targeted therapy, a PARP inhibitor called Lynparza®, is effective in patients with metastatic pancreatic cancer who have germline (inherited) mutations in BRCA, and who have responded to platinum-containing chemotherapy drugs.

Although each of the medications mentioned above is effective for a relatively small subset of pancreatic cancer patients, molecular profiling and genetic testing are critical in determining whether these treatments are appropriate for you or your loved one.
Any treatments, including clinical trials, mentioned above may not be appropriate or available for all patients. Doctors take many things into account when prescribing treatments including the stage and type of cancer and the overall health of the patient. Contact PanCAN Patient Services for personalized treatment options.