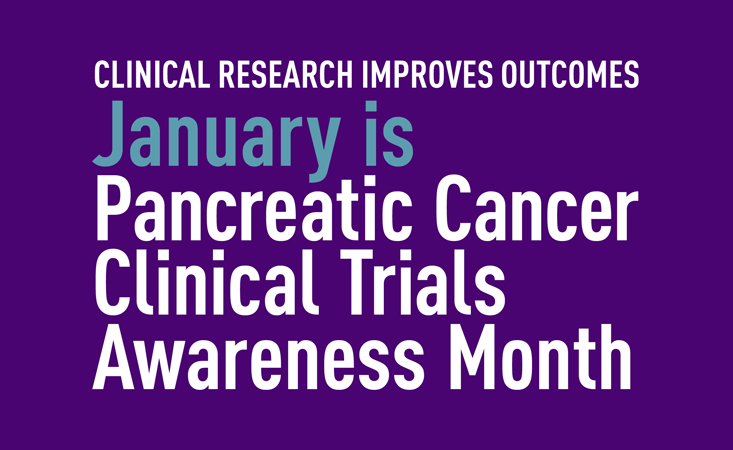 Editor's note: January is Pancreatic Cancer Clinical Trials Awareness Month. Today, we kick off the monthlong campaign to bring awareness to this critical treatment option – because with research comes progress, and with progress comes change. Stay tuned as we share stories of people who have participated in pancreatic cancer clinical trials, plus other helpful resources.
Clinical trials have been in the news a lot lately because they're how new drugs are being tested before they're approved to treat or prevent the coronavirus (COVID-19).
But clinical trials are important beyond the coronavirus pandemic, and especially so for pancreatic cancer patients.
Treatment for any disease must first go through clinical trials before being approved by the U.S. Food and Drug Administration (FDA).
Clinical trials are research studies that investigate new therapies or combinations of existing treatments to test their effectiveness in managing a disease.
And in pancreatic cancer, clinical trials are critical for progress.
Better treatment options can only come after rigorous testing through clinical trials – and those trials need patients to enroll in order to test these new investigational treatments.
Clinical trials often provide the best treatment options for pancreatic cancer, giving patients early access to cutting-edge treatments that can lead to progress in research and improved treatment options.
Plus, pancreatic cancer patients who participate in clinical research have better outcomes.
The Pancreatic Cancer Action Network (PanCAN) strongly recommends clinical trials at diagnosis and during every treatment decision.
January is Pancreatic Cancer Clinical Trials Awareness Month – a good time to learn more about this critical treatment option.
"I would highly recommend others diagnosed with pancreatic cancer consider clinical trials," said Carolyn Williams, a pancreatic cancer survivor who was part of a five-year clinical trial testing an investigational adjuvant (post-surgery) treatment.
She explained, "First of all, they would be even more carefully monitored, plus they have the possibility of getting the newest drugs available, in addition to the current standard of care drugs, which can possibly give a better outcome. Also, the trial can lead to improved options available for the future treatment of pancreatic cancer."
Sign up for our free
Jan. 22 webinar
featuring an expert speaker covering the latest treatment approaches, including clinical trials.
Clinical trials are a key component of the "Right Track" model – which encourages cancer patients to see a specialist, get testing and get treatment based on their biology and/or through a clinical trial – for better outcomes.
PanCAN is a leader in the clinical trials space. Our innovative Precision PromiseSM clinical trial recently began enrolling eligible patients at top institutions nationwide. We also maintain the most comprehensive and up-to-date database of pancreatic cancer clinical trials available in the U.S., and can help patients find trials they may be eligible for.
Clinical trials are always an important treatment option for pancreatic cancer patients – even now, during the coronavirus pandemic.
While patients have experienced barriers to clinical trial enrollment during the pandemic, other barriers – like the need for travel or frequent trial visits – have been reduced during this time as trials adjust to make it easier for patients to participate at this time. Most pancreatic cancer trials are still enrolling patients and have been even during the peaks of the pandemic.
PanCAN's Patient Services can help patients and their families understand clinical trials, learn what is available and know what to consider and do right now, during the pandemic.
The most important thing is that you understand the facts about clinical trials.
New treatments cannot be approved without them.
"New drugs and treatment options are the future," said survivor Allison Perlis. "Clinical trials are critical for the future of survivors."
With clinical trials comes progress. With progress comes change.