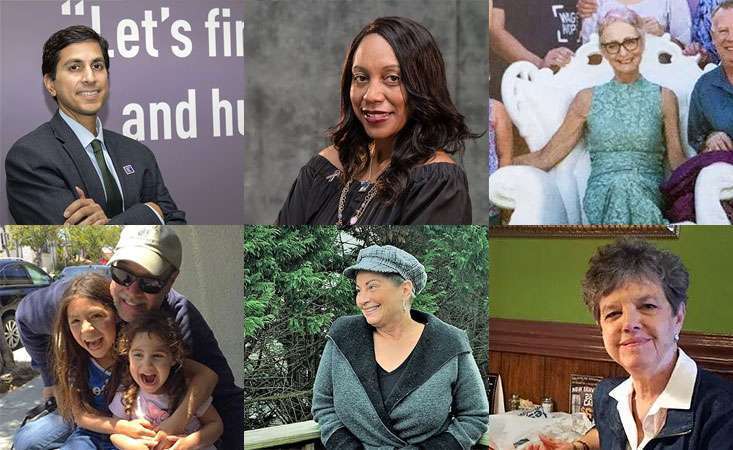 A recent paper published in the prestigious journal Lancet Oncology showed that the Pancreatic Cancer Action Network's (PanCAN) Know Your Tumor® precision medicine service can help pancreatic cancer patients live longer.
Know Your Tumor uses molecular and genetic testing to give pancreatic cancer patients and their oncologists information about treatments that are personalized to the patient's biology. The new study showed that patients who can go on therapies that match their tumor biology live an average of one year longer compared to patients who don't.
Here are the faces and stories of some of the patients the service has helped.
Akshay
Akshay Mehta, MD, was a 35-year-old orthopedic surgeon when he was diagnosed with pancreatic cancer. A rare change found in his tumor through Know Your Tumor gave him a new treatment option that worked.
"We were very surprised to learn that my tumor had an ALK fusion, a very, very rare alteration in pancreatic cancer patients," Mehta said. "We were so fortunate that there is a drug available, that has been approved for other cancer types, that effectively blocks ALK's activity.
"My tumor responded very well to the ALK inhibitor – in fact, the tumor shrank so much that I was able to undergo the Whipple surgery in May 2017."
Mehta added, "I'm really grateful that we found that genetic mutation through PanCAN's Know Your Tumor service. That's what made me a surgical candidate, and that's why I'm here today, I think."
Karen
Karen Kiernan is a three-year pancreatic cancer survivor, doing well today thanks to a targeted treatment.
Her Know Your Tumor results showed that she had a rare mutation found in only about 1-3% of pancreatic cancer patients. This specific characteristic is known to respond well to an immunotherapy drug that had been approved a year or so earlier, called Keytruda®.
Kiernan began treatment with Keytruda in April 2018 and within a week, she began feeling like herself again. Her back pain subsided, and she gained weight. To date, Kiernan's scans continue to be stable.
With this new lease on life, Kiernan is looking forward to more happy moments with her husband, three children and seven grandchildren.
"I know I'll always be on treatment. But because I'm feeling better, I'll get to do more of the things I love," Kiernan said.
David
Diagnosed when his daughters were just 8 and 2 years old, David Watson is another survivor who benefited from the targeted drug Keytruda after participating in Know Your Tumor.
"I felt relieved and excited that I was a candidate for Keytruda, since I had heard about its breakthrough approval," Watson said. "I was also pleased that my results matched me with an immunotherapy drug, since immunotherapeutic approaches had been quite effective in other tumor types."
Watson is feeling "very positive and focused emotionally." He's feeling well physically, too, and beginning to increase his exercise intensity.
Most of all, he's grateful for the opportunity to spend time with his family and loved ones and to continue to watch his beautiful daughters growing up.
Teona
Though Teona Ducre has not needed to use her Know Your Tumor results yet, she appreciates having them.
"I participated in Know Your Tumor after my initial treatment and surgery.  Although the information was not used to determine treatment, it gave my medical team tremendous insight and a plan for any recurrence, which they believe will make treatment more effective should I need it in the future.
"In my oncologist's words, already having a road map for success will be an asset, in particular when time is always of the essence with this disease."
Gina
59-year-old grandmother of three Gina Harrison was diagnosed almost two years ago. She was able to have surgery, but when her cancer returned, she was glad to be armed with the Know Your Tumor report from when she used her surgical sample to get profiled.
That report included a clinical trial that would target her BRCA mutation. "I can't stay on chemo my entire life," Harrison shared. "I've seen what it does to my body.
"I think I need something different and something that my body is going to respond to. I'm hopeful that we can get this under control with the clinical trial."
Gail
When she received her Know Your Tumor report, Gail shared, "I didn't realize what a gift was being offered to me through this molecular profiling information."
She quickly learned that a targeted therapy was available through a clinical trial for patients with various types of cancer that have the same molecular alteration as her tumor – and there was a site open near her hometown.
"The results have been remarkable – I've had a 72% decrease in tumor volume, and one tumor is no longer visible at all," she said.
Contact Patient Central
to learn how to enroll in Know Your Tumor or for more information about testing and pancreatic cancer treatment options.
Any treatments, including clinical trials, mentioned in this story may not be appropriate or available for all patients. Doctors take many things into account when prescribing treatments including the stage and type of cancer and the overall health of the patient.