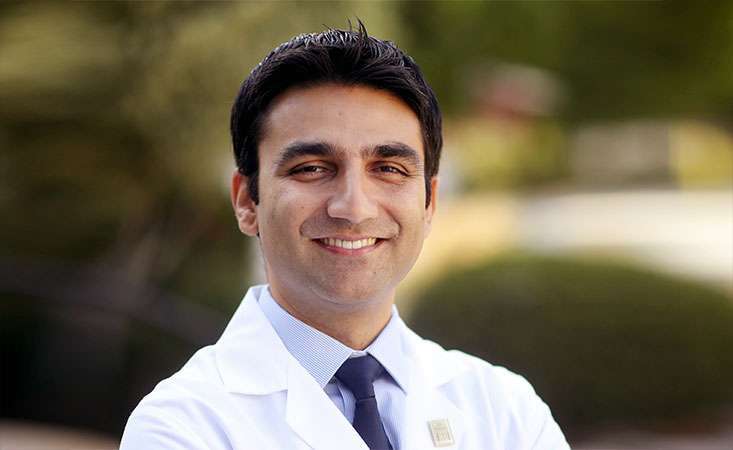 Editor's note: We recently announced the recipients of the Pancreatic Cancer Action Network's (PanCAN) 2020 research grants. Now we'd like to introduce you to each grantee to share what brought them to the field of pancreatic cancer research and what this funding means to them.
Mustafa Raoof, MD, FACS, knew he wanted to go into medicine when he was a child.
His inspiration? His mother, a gynecologist.
"We would frequently run into her patients at the mall or public places," said Raoof, a surgical oncologist and assistant professor of surgery at City of Hope, a comprehensive cancer center.
"Her patients were always so thankful and appreciative. That is when I realized that being able to help alleviate someone's suffering is a remarkable privilege."
Today, his mom continues practicing medicine, even though she could retire. Instead, she puts on her personal protective equipment and continues her work in a hospital full of COVID-19 patients in Pakistan. "She has a no-nonsense work ethic. Her compassion for her patients and her sense of duty to her profession are most inspiring to me," Raoof said.
After enrolling in medical school, Raoof recalled gravitating toward surgical specialties. He described feeling "at home" in the operating room.
Experiencing surgical oncology in his final year of medical school was transformative for Raoof.
His passion for science came later.
"Up until medical school, I studied science as an established truth, rather than a process of discovery," Raoof said. "In retrospect, I was always curious about molecular mechanisms and asked a lot of 'why' questions – which probably annoyed some of my teachers!"
An experience in an immunology lab before his residency solidified the path for Raoof: He would become a surgeon-scientist.
During his surgical training, Raoof took care of many patients with pancreatic cancer.
"Systemic therapies [for pancreatic cancer] are not as effective as they are for many other cancers. To have patients recur after a perfect operation was demoralizing and frustrating. I knew I had to develop better therapies for my patients."
Hitting closer to home, Raoof lost his dad to metastatic liver cancer about a year and a half ago. "He was my biggest cheerleader," Raoof said.
"His passing for me is a daily reminder that we don't just need better therapies – we need them urgently."
Raoof's 2020 PanCAN Career Development Award, funded in memory of Skip Viragh, focuses on a novel experimental drug that may be able to selectively kill pancreatic cancer cells by causing DNA damage.
Upon learning that he was being awarded a PanCAN grant this year, Raoof recalled feeling "ecstatic, humbled, honored and grateful."
He said, "This funding will allow us to embark on a relatively new and exciting line of inquiry and will allow us to generate valuable data that will help support future applications for National Cancer Institute and other large federal grants.
"Further, this funding will enable us to complete preclinical testing with the possibility of clinical trials for patients with pancreatic cancer."
Raoof also noted feeling grateful for PanCAN's allowance of a flexible start date for the grant during this challenging time. "This flexibility enabled me to defer funding until my lab is operating at full capacity. Having funding security is key to sustaining critical projects during and beyond the pandemic."
While the pandemic has slowed operations in his lab, Raoof finds value in the opportunity to slow down and think. He also loves spending extra time with his two sons, one of whom was just born in May of this year.
Raoof hopes to one day inspire his boys like his mom inspired him.
He added, "To be able to pursue my research ideas and help develop new therapies for pancreatic cancer while taking care of pancreatic cancer patients is truly my dream job."
Your support
helps PanCAN fund passionate physicians and scientists like Dr. Raoof to pursue their research goals.