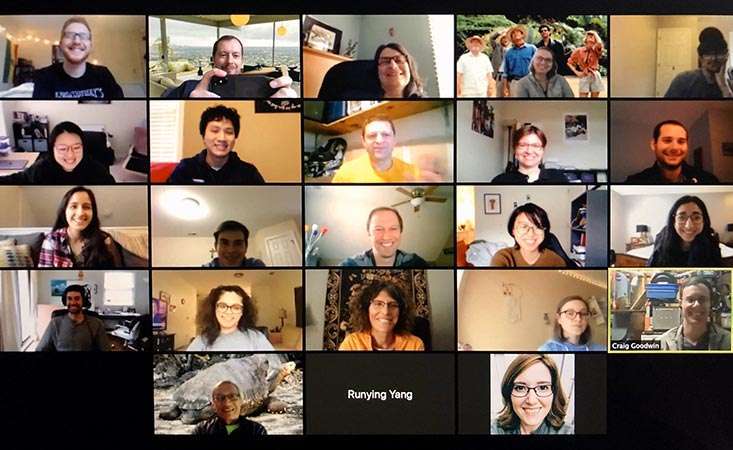 Editor's note: May is National Cancer Research Month, which provides an opportunity to highlight the incredible scientific and clinical research taking place in labs and clinics across the country. Learn about two PanCAN grantees whose efforts remain steadfast during this challenging time.
Ingunn Stromnes, PhD, has always been fascinated by the immune system. With the current coronavirus disease (COVID-19) pandemic, the rest of the world is beginning to see the significance of the immune system, too.
"Breakthrough discoveries of the immune system in fighting disease (e.g., vaccination) have transformed human lives for decades," said Stromnes, an assistant professor in the department of microbiology and immunology at the University of Minnesota and a two-time Pancreatic Cancer Action Network (PanCAN) research grant recipient.
"COVID-19 is now, in real-time, demonstrating how essential immunological research is to the health of our communities."
Stromnes' research efforts focus on harnessing pancreatic cancer patients' immune systems to recognize and fight off their cancer cells. Her PanCAN Career Development Award was funded in memory of Skip Viragh, and her current Catalyst Grant is supported by Nancy Stagliano, PhD.
Like many of us, pancreatic cancer researchers across the country are finding themselves safer at home.
But for scientists whose experiments rely on being in a "wet" laboratory – comparing the behaviors of healthy and pancreatic cancer cells grown in a dish or three dimensionally, observing the effects of an investigational drug on animals with pancreatic cancer and much more – the disruption can dramatically delay progress.
"Although COVID-19 has significantly impacted our research efforts, we have ethical and regulatory obligations to keep people safe and to reduce the spread of COVID-19," Stromnes said.
"In line with practicing social distancing, only essential staff are permitted in the lab, individuals are not in the lab at the same time, and we are instead working from home."
Pancreatic cancer is the world's toughest cancer, with the lowest five-year survival rate of any major cancer. And the disease does not stop or slow down, during a pandemic or any other time. 
Bjoern Papke, PhD, postdoctoral fellow in the University of North Carolina at Chapel Hill lab of Channing Der, PhD, told us, "The pancreatic cancer research in the Der lab is continuing with a rapid pace,  even from home during the pandemic – all of us have experiments to plan, data to analyze and papers to write."
He continued, "Most of us started to take online courses in computer programming languages to improve our data analysis skills and to aid in the handling of big data sets from our experiments. These bioinformatic skills will help us to faster and better analyze our big data sets."
Papke and the Der lab focus their attention on KRAS, a protein mutated in nearly all pancreatic cancer cases, which isn't currently "druggable" with existing therapies. Papke, Der and other members of the lab have received PanCAN funding to support their research efforts.
Stromnes described how her group is taking this time to catch up on a lot of writing and reading.
"We are analyzing data, writing manuscripts, writing grants and fellowships, reading papers and discussing our results and next steps every day," she said.
"We are thinking more and doing less, which in the long run may actually speed up our progress."
And while unable to see each other in person in the lab or networking opportunities, they are staying as connected as possible.
"We continue to hold weekly lab meetings and joint lab meetings to discuss our results," Stromnes said. "I also have individual meetings with trainees to discuss manuscripts and data analysis. And last week, we had a Zoom happy hour."
Papke describes similar efforts within his group: "The Der lab stays connected via Zoom chat and video meetings.
"We meet twice a week for a two-hour lab meeting. The members of the lab take turns presenting their research to the group in the first meeting. And in the other, we discuss general science problems or have a speed journal club (where each of us has the challenging task to summarize a paper in two minutes!)."
Both scientists recognize that people with pancreatic cancer are particularly vulnerable at this time, which spurs them to maintain as much research momentum as possible. And they are grateful for PanCAN's role in supporting patients, caregivers, healthcare professionals and researchers.
"PanCAN is the lighthouse for pancreatic cancer patients and pancreatic cancer research independent of the pandemic," Papke said.
Stromnes added, "PanCAN not only provides a critical link between patients and their care, it also funds research that is transformative for pancreatic cancer patients.
"PanCAN continues to recognize how important it is to fund high-risk, high-reward research, with a particular focus on helping young investigators, which I am extraordinarily grateful for."
Donate today
to make sure scientists like Drs. Stromnes and Papke continue their potentially lifesaving pancreatic cancer research efforts.