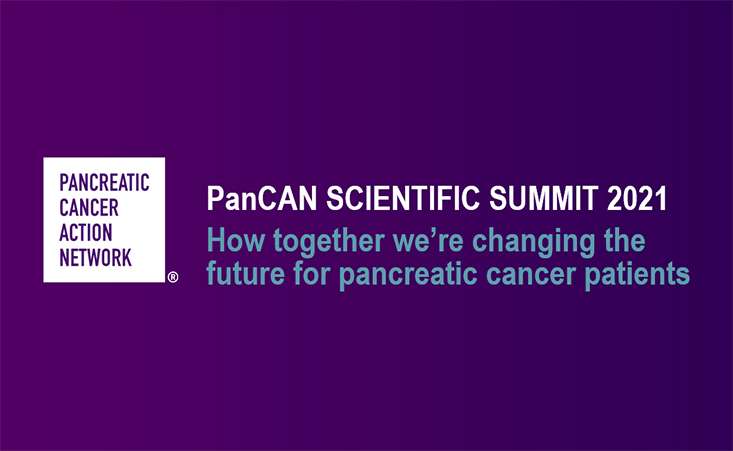 Welcoming the newest 2021 PanCAN grantees into our Community for Progress. Hearing junior and senior researchers describe their leading-edge projects that were made possible by PanCAN's incredible donors and supporters. Openly sharing data and engaging in robust discussions between grantees, Scientific & Medical Advisory Board members and other attendees. Providing updates on PanCAN's large-scale transformative research and clinical initiatives. Highlighting the partnership and support from our Scientific & Medical Affairs Industry Members. Including the voices of Patient Research Advocates whose lived experiences help shape research directions and project aims.
All this – and more – was part of PanCAN's 2021 Annual Scientific Summit, which took place virtually in mid-October, bringing together more than 130 participants.
PanCAN President and CEO Julie Fleshman, JD, MBA, kicked off the meeting with an overview of the organization's accomplishments over the past year and an introduction of the newest research grant recipients to join our Community for Progress.
Next came remarks from Margaret Tempero, MD, chair of PanCAN's Scientific & Medical Advisory Board. "PanCAN provides so much more than research funding," she said.
Tempero went on to outline some of the benefits of being part of PanCAN's Community for Progress, including:
Bringing the scientific and clinical communities together at meetings like our Scientific Summit
Providing mentorship and career development for more junior investigators and those new to the field
Encouraging collaboration
Allowing interaction and discussions between researchers, clinicians, patients and industry
Throughout the summit, updates were given on PanCAN's three biggest initiatives – the Precision PromiseSM adaptive clinical trial, the Early Detection Initiative and SPARK, our health data platform.
"It's a new paradigm – a new learning ecosystem," PanCAN Chief Medical Officer Anne-Marie Duliege, MD, said about Precision Promise, which is currently enrolling patients at 15 sites throughout the country. The adaptive platform clinical trial learns as it goes, using complex statistical analyses to quickly determine whether an investigational therapy is providing a benefit to patients.
In addition to assessing investigational treatments' effectiveness in treating pancreatic cancer, the trial also includes rigorous supportive care measures. For example, all patients who enroll will receive free pancreatic enzyme supplements to aid in their digestion of food, if needed. And, the Precision Promise Supportive Care Committee has already published two papers in the biomedical literature providing guidelines for best practices to manage pancreatic cancer-associated weight loss and pain.
PanCAN Chief Science Officer Lynn Matrisian, PhD, MBA, led the discussion about the Early Detection Initiative, which aims to explore the connection between a new diabetes diagnosis and pancreatic cancer. In a small subset of people who are diagnosed with diabetes after the age of 50 who experience certain changes in their blood sugar and weight, their diabetes is caused by an undiagnosed pancreatic tumor.
The Early Detection Initiative aims to determine whether imaging at the time of diabetes onset can find pancreatic cancer in its earlier, more treatable stages.
The final PanCAN initiative that was described is our newest – the SPARK health data platform. With years of robust data collected through PanCAN's Know Your Tumor® precision medicine service, Patient Registry, Clinical Trial Finder and other projects, and with the addition of Precision Promise and the Early Detection Initiative, it is important to share and analyze those data and learn as much as possible from every patient.
"The concept for SPARK is for PanCAN to serve as a resource for the pancreatic cancer research community that can ultimately accelerate the process from data generation to the development of insights from that data, and ultimately to progress in the field and improving patient outcomes," said PanCAN Chief Data Officer Sudheer Doss, PhD.
The grantee presentations throughout the meeting featured scientists and clinicians who received PanCAN funding early in their career and as well-established investigators.
Gregory Beatty, MD, PhD, spoke about the results and ongoing efforts for his PanCAN Precision Medicine Targeted Grant, originally funded in 2017 with an extension granted in 2021. His project has been generously funded in memory of Skip Viragh.
Beatty's research looks beyond the cancer cells themselves and focuses on the tumor microenvironment, a complex mixture of cell and tissue types that surrounds pancreatic tumors. Comparing pancreatic tumors to other solid tumors, like lung cancer, revealed that the microenvironment is much denser and more prominent for pancreatic tumors. The microenvironment is thought to impact the delivery of nutrients and oxygen – and therapies – to the pancreatic cancer cells and promote or impede an immune response.
Beatty and his colleagues have developed specialized panels in the lab that can measure and analyze the different components of the microenvironment. Utilizing patient samples from various clinical trials, Beatty and team seek to determine how to correlate microenvironmental features with treatment responses and patient outcomes.
Another presentation featured Channing Der, PhD, describing progress from his Research Acceleration Network Grant, awarded in 2015. The project explored combination therapy approaches targeting different parts of the mutant KRAS pathway. Der described pancreatic cancer as "the most RAS-addicted cancer," referring to the dependency of the cells on signaling from mutant KRAS, an alteration that occurs in nearly every patient's pancreatic tumor.
After decades of effort, there is now a drug targeting a specific KRAS mutation that has been approved to treat lung cancer. While a huge milestone in the fight against RAS in cancer, the mutation targeted by the approved drug only occurs in a very small subset of pancreatic cancer patients' tumors. Without the ability to directly target KRAS in pancreatic cancer, Der and his team take the approach of targeting "downstream" pathways, which are cascades of other proteins that get activated in response to mutant KRAS.
One of the former trainees in the Der lab, Kirsten Bryant, PhD, recipient of a PanCAN Pathway to Leadership Grant, has discovered that a combination of a drug targeting a protein activated by KRAS with a drug targeting a process called autophagy, by which the cells bring in nutrients, shows promise in pre-clinical and early clinical studies. During the Q&A portion of Der's talk, he turned some of the questions over to Bryant to address to showcase her contributions to his lab's research.
Overall, Der said, the grant allowed his team to advance their research in three key ways:
Fostering the next generation of pancreatic cancer researchers, like Bryant
Initiating a clinical trial based on the results
Leveraging the funding for additional grant support
Hosting the Scientific Summit over the Zoom video platform allowed the addition of mini symposia taking place in breakout rooms. One room was dedicated to talks from 2020 Career Development Award recipients, while the other predominantly featured 2020 Translational Research Grantees.
One of the Career Development Award talks was given by Gillian Gresham, PhD, whose project was funded in memory of Skip Viragh. Gresham is trained as an epidemiologist and focuses on cancer survivorship and quality of life measures. Her project aims to use measures of real-time physical function, like active vs. sedentary periods throughout the day, sleep health and more, to look for early indicators of functional decline and to encourage adjustments to treatment and supportive care strategies as appropriate.
In addition to looking at measurable data like number of steps taken each day, Gresham and her team conduct interviews with participants of her study, which Gresham finds extremely informative. "These interviews allow us speak with patients and learn about their experiences as well as barriers and challenges with physical activity due to their condition," she said.
A speaker in the Translational Research Grants mini symposium was Susan Bates, MD. Bates described a novel combination treatment approach that she is studying in the lab and hoping to move into the clinic, thanks to her funding from PanCAN. One of the investigational drugs blocks the cancer cells' ability to translate genetic material into proteins that impact how the cells behave. The other drug targets a process called histone deacetylation, which interferes with the packaging of DNA and its expression. Together, Bates said, pre-clinical data suggest that the drugs act synergistically, which means the combination is especially effective, even at low doses.
The week following the PanCAN Scientific Summit, we hosted a webinar entitled, "How You Are Changing the Future with Research," to celebrate the impact our donors and supporters are having on advancing research and provide highlights from the summit. Der, Gresham and Bates made up a lively panel, along with Fleshman and Matrisian, to talk about how their PanCAN grants have impacted them and what they're most excited about in the field.
Watch webinar recapping the PanCAN Scientific Summit, featuring an expert scientific panel.
Donate today
to ensure PanCAN continues to conduct and support potentially lifesaving research.