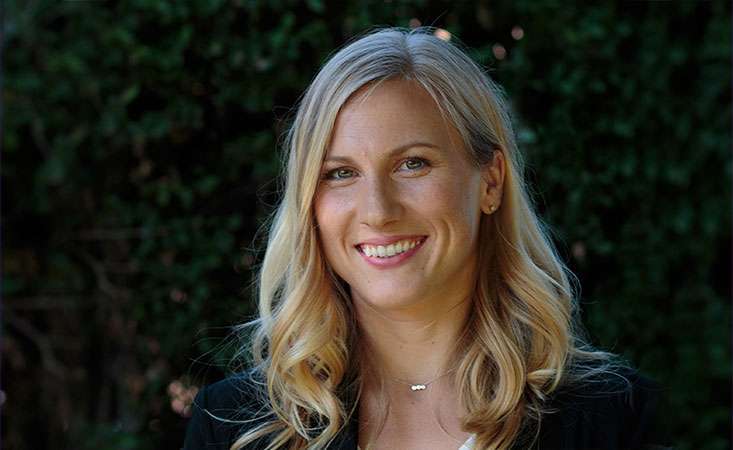 Editor's note: We recently announced the recipients of the Pancreatic Cancer Action Network's (PanCAN) 2020 research grants. Now we'd like to introduce you to each grantee to share what brought them to the field of pancreatic cancer research and what this funding means to them.
Gillian Gresham, PhD, has a black belt in karate and loves to box. She's a triathlete and has been playing the violin since she was 4 years old, performing with the Los Angeles Doctors Symphony Orchestra whenever the opportunity arises.
But her deepest passion is science.
"I was fortunate to obtain early research experience as a high school and undergraduate student volunteering at hospitals and working part-time in a clinical trials research office," she said.
The clinical trials work was under the supervision of her first mentor, Dr. Derek Jonker, a medical oncologist who specializes in gastrointestinal cancers at The Ottawa Hospital Cancer Centre in Canada.
Gresham, today an assistant professor of hematology/oncology in the department of medicine at Cedars-Sinai Medical Center, described these experiences as solidifying her love for cancer research.
"This led me to pursue a master's and doctoral degree in epidemiology, focusing on cancer clinical trials, with the ultimate goal of becoming a principal investigator and helping cancer patients at the population level," she said.
Gresham was drawn to pancreatic cancer-related research after her master's thesis, under the supervision of Drs. George Wells and Derek Jonker. "My thesis involved the development and evaluation of a decision aid for patients with pancreatic cancer considering different treatment options.
"I learned a lot from this research, including the importance of incorporating the patient's voice and individual preferences into treatment decisions and patient care."
Her doctoral and postdoctoral work, supervised by Drs. Curtis Meinert and Steven Piantadosi, built upon this work and laid the foundation for the study she will conduct as part of her PanCAN Career Development Award.
For her PanCAN research grant, funded in memory of Skip Viragh, Gresham will work with Dr. Andrew Hendifar, Cedars-Sinai gastrointestinal research group lead and co-investigator on this project, to evaluate wearable activity monitors in patients with advanced pancreatic cancer and assess how changes in physical function measures may predict survival and other patient outcomes.
Gresham is the first PanCAN research grant recipient to focus on cancer survivorship and control. "This is a topic that I am very passionate about," she said.
"I have dedicated the majority of my academic career to researching how we can improve quality of life, manage symptoms and treatment side effects, and involve patients in their own care."
She is motivated and inspired every day by the cancer patients who participate in her research studies as well as everyone who has been touched by cancer.
In the midst of the coronavirus disease (COVID-19) pandemic, Gresham's work lends itself well to continuing with less interruption than other scientists are facing.
She explains, "I had a unique experience, as much of my research involves the use of wearable technology and remote health monitoring outside the clinic setting.
"We adapted our protocols in early April to be completely remote, including consent and all study assessments, so we can continue to learn about how technology and mobile health can be used to monitor and engage patients during the pandemic."
The PanCAN grant will allow Gresham and her team to expand this work and explore different technology, such as heart rate and blood pressure monitors, sleep devices and temperature monitors, to identify and evaluate different objective measures that are key to assessing a patient's function and performance status.
These metrics may also provide new and interesting information regarding the effect that the pandemic has had on cancer survivors' physical health and how that impacts their mental health and overall well-being.
Receiving this funding in memory of Skip Viragh was particularly meaningful for Gresham. "I first heard about Skip Viragh and his legacy as a doctoral student at Johns Hopkins in Baltimore, MD, when visiting the Skip Viragh Center for Pancreatic Cancer in the Sidney Kimmel Cancer Center.
"His family's dedication and generosity for pancreatic cancer research has supported so many important research projects in the past and continues to make an impact on pancreatic cancer research today."
She added, "I would like to thank the donors, from the bottom of my heart, for the opportunity to pursue this research and help contribute to improving survivorship care for pancreatic cancer patients."
You can help
make sure PanCAN continues to fund bright and motivated scientists – like Dr. Gresham – working to improve pancreatic cancer patient outcomes.