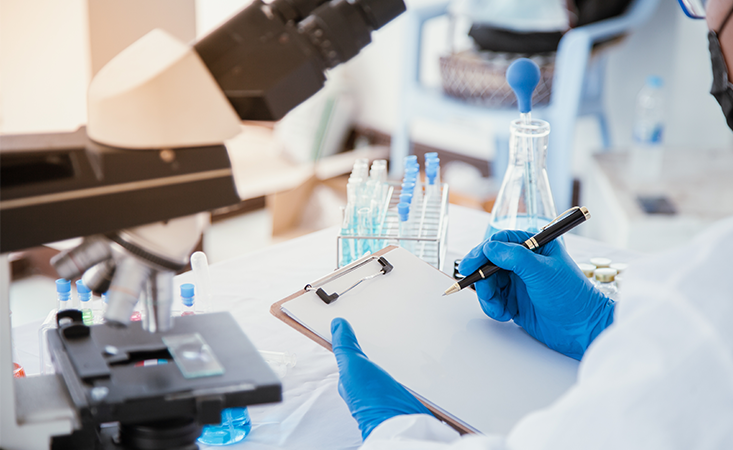 Editor's note: January is Pancreatic Cancer Clinical Trials Awareness Month. Today's article describes the complex and changing landscape of clinical trials available to patients. Stay tuned as we share stories of people who have participated in pancreatic cancer clinical trials, plus other helpful resources.
Every treatment available today was approved through a clinical trial. Learn more about some of the types of pancreatic cancer clinical trials available – even during a pandemic – and how these have changed over time.
Clinical trials are becoming more and more precise. We've learned that both the biology of a patient's tumor and their genetic makeup can impact treatment options that may work best for them. Results from PanCAN's Know Your Tumor® precision medicine service showed that patients who were able to go on treatment that aligned with their tumor biology lived an average of one year longer than patients who weren't able to get matched treatment.
Contact PanCAN Patient Services to learn more about biomarker and genetic testing through our Know Your Tumor service or your treating institution. Patient Services can also conduct a personalized biomarker-driven clinical trials search for you based on your unique biology.
In 2021, a drug was approved for patients with lung cancer whose tumor has a specific mutation in the protein KRAS, known as KRAS G12C. While approximately 95% of pancreatic tumors have KRAS mutations, only about 1% have the G12C mutation. A precision medicine approach could identify the small subset of patients who may benefit from this KRAS inhibitor, and additional drugs targeting KRAS and related protein pathways are currently being investigated in clinical trials.
Treating patients through a personalized, precision medicine approach has become much more common in recent years as researchers better understand the relationship between patients' biology and their response to treatment.
Clinical trials can aim to make immunotherapies effective in pancreatic cancer patients. An immunotherapy approach – getting a patient's own immune system to recognize and destroy their tumor – has brought tremendous progress in some cancer types. But most pancreatic cancer patients' tumors do not respond to immunotherapy – yet.
Clinical trials testing the drug Keytruda® in patients with solid tumors anywhere in the body with certain biological features showed that the immunotherapy drug is effective in a subset of pancreatic cancer patients' tumors.
Learnings from the Keytruda trial and other scientific and clinical studies have revealed new strategies to try to make immunotherapeutic approaches work better for pancreatic cancer patients. Clinical trials are underway to test novel combinations of experimental immunotherapy drugs, sometimes in combination with other immunotherapies and/or targeted therapies, chemotherapy or radiation.
Clinical trials are available to patients at any stage of disease and with different treatment histories. Pancreatic cancer patients may opt to enroll in a clinical trial as their first line of treatment, start standard treatments first or participate in trials at multiple times in their treatment journey.
Encouragingly, many clinical trials – more than ever before – are available for patients who've received one, two or more previous types of treatment.
This increase signifies that patients are living longer and feeling well enough to tolerate additional treatment options, and that pharmaceutical companies are seeking to build upon more effective standard of care treatments to further extend patients' lives.
Clinical trial designs are becoming more innovative. Standard clinical trials determine whether one experimental treatment option is more effective or causes fewer side effects than the current standard of care. Progress can be slow, and it can take many patients and many years before we learn whether the new drug works and will be approved.
Adaptive platform clinical trials are designed to test more than one experimental treatment at a time and require fewer patients and less time to find out if the drugs are effective.
PanCAN's Precision PromiseSM adaptive clinical trial is open and enrolling patients with metastatic pancreatic cancer receiving their first or second line of therapy at 15 world-class institutions nationwide. Precision Promise aims to make the development of new pancreatic cancer treatments faster, smarter and less expensive.
Clinical trials testing standard treatments are evolving, too. For many years, there was only one standard of care chemotherapy for patients with pancreatic cancer. Now, there are several.
Clinical trials are underway to determine which patients will respond best to which standard of care option – and to look for ways to find out faster whether the treatment is effective.
There are also trials to study the appropriate sequence, delivery method and timing for chemotherapy, radiation therapy and surgery – and to identify treatments that may help a patient become eligible for surgery if their tumor was not surgically removable at diagnosis.
And, trials are testing novel drugs and techniques to make standard treatments more effective. Clinical trials are examining experimental surgical techniques, such as using electrical currents or heat to help destroy the cancer cells. Other clinical trials are evaluating the effectiveness of combining chemotherapy with experimental drugs and devices that improve the targeting and delivery of the medication to the tumor.
As we continue to learn more about pancreatic cancer patients and their tumors, clinical trials are being designed to meet patients' needs and accelerate progress toward new, better treatment options. Because with scientific and clinical research comes progress – and with progress, comes change.
Contact PanCAN's Patient Services
to learn about treatment options for pancreatic cancer patients – including a free personalized clinical trials search – and for other information and resources about the disease.