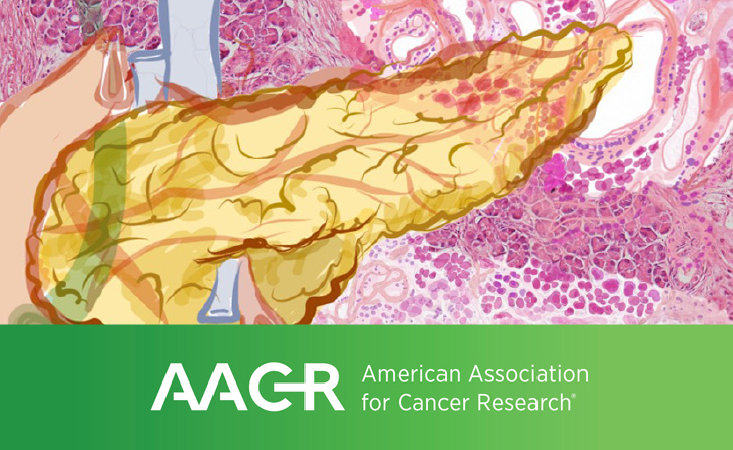 The 2021 American Association for Cancer Research (AACR) Pancreatic Cancer Special Conference took place virtually Sept. 29-30. The meeting, which began on an every-other-year basis in 2012, is now an annual event that brings together junior and senior pancreatic cancer scientists who conduct research in labs and clinics around the world. PanCAN proudly served as the major supporter for this year's meeting, and our Scientific & Medical Affairs staff were in attendance.
PanCAN research grant recipients and Scientific & Medical Advisory Board members were featured prominently throughout the meeting as organizers, speakers and discussants. Additionally, the meeting provided an opportunity for graduate students and postdoctoral trainees – many from our grantees' labs – to speak about their work and engage in discussion about their findings and next steps.
The opening "rising star" keynote was delivered by two-time PanCAN grantee Dr. Andrew Aguirre, who spoke about large-scale efforts to categorize pancreatic cancer tumors into different subtypes, like The Cancer Genome Atlas study that Aguirre co-led. While the broad subtypes can play an important part in determining treatment approaches for each patient, Aguirre and his team also undertook single-cell analyses to understand the diversity of cell types within each patient's tumor.
Tailoring a patient's treatment to their individual biology is known as precision medicine, and evidence from PanCAN Know Your Tumor® service has shown that patients whose treatment aligns with their tumor biology live longer.
Another session at the conference focused on immunotherapy for pancreatic cancer patients, and the major talk was given by PanCAN grantee Dr. David DeNardo. In a recent evaluation of our Research Grants Program, DeNardo told us his PanCAN funding came at a "critical time" in the development of his young career. "I received an early-career investigator award at a time when I was debating doing research in breast or pancreatic cancer," he said. "Since then my research team has committed to pancreatic cancer research."
Because of PanCAN donors, DeNardo has been able to make contributions to understanding the interactions between pancreatic cancer cells and the patient's immune system. For example, his work has shown that certain cell types within the immune system, called dendritic cells, are impaired even at very early stages of pancreatic cancer disease progression. Overcoming this will take a combination immunotherapeutic treatment approach, he said.
The keynote address on the second morning of the meeting was given by Dr. Jennifer Permuth. She spoke about "molecular epidemiology" – using genetic information in combination with data at the population level. This can be applied to monitoring pancreatic cysts, which occur frequently in adults but seldom progress to invasive cancer. Permuth suggested a strategy combining imaging with clues from an individual's cyst fluid and blood. She also spoke about a collaborative effort within Florida to identify and reduce health disparities based on patients' race and ethnicity.
Another topic discussed at the special conference was the tumor "microenvironment," a complex mixture of cells and tissue types that surround pancreatic tumors. The microenvironment is a defining feature of pancreatic tumors, more pronounced than in other solid tumor types. The roles of the microenvironment have been described as impeding drug delivery, providing a supply of nutrients and oxygen to the tumor and hiding the tumor from the patient's immune system.
Dr. Charlene Ogier, one of PanCAN's most recent grantees, was invited to speak about her work on cancer-associated fibroblasts, one of the key components of the tumor microenvironment. She shared about these cells' involvement with the breakdown of cholesterol, with potential to block their activity as a therapeutic approach to starve the cancer cells.
The meeting also included poster sessions, which featured pre-recorded presentations. A poster highlighting PanCAN Precision PromiseSM adaptive clinical trial platform was presented by Dr. Vincent Picozzi, member of the Precision Promise Steering Committee and chair of its Clinical Trial Consortium. Picozzi described the unique features of Precision Promise, which is currently enrolling patients, including its "adaptive" nature and innovative statistical approach. These features allow the trial to learn over time and make the drug development process faster, less expensive and involve fewer patients. He also spoke about the Precision Promise team's focus on supportive care, making sure patients' overall quality of life and management of symptoms and side effects are prioritized.
The final session of the conference was set up as a debate to discuss different strategies to model pancreatic cancer in a lab setting. Pre-clinical work is critical to determine which therapeutic targets and investigational drugs should be pursued in human clinical trials. However, there is not a single lab model that faithfully recapitulates all aspects of the disease.
PanCAN grantee Dr. Kenneth Olive took the side in favor of a genetic mouse model, developed by Drs. David Tuveson and Sunil Hingorani from funding from two of PanCAN's earliest research grants. Olive provided information about the strengths and limitations of the mouse model, whereas the other speaker, Dr. Phoebe Phillips, joining the conversation all the way from Australia, focused on "organoids," which are 3D recapitulations of the tumor and its microenvironment.
At the end of the day, Olive asserted, "the only experiments that fail are the ones we don't learn from." The "right" lab model for each researcher and project depends on the questions they're seeking to answer. And, as debate moderator and PanCAN grantee and adviser Dr. Anirban Maitra reminded the attendees, "Pancreatic cancer researchers are lovers, not fighters. The only thing we're fighting is pancreatic cancer."
Donate today
to ensure PanCAN continues to fund and conduct transformational research to improve outcomes for people with pancreatic cancer.