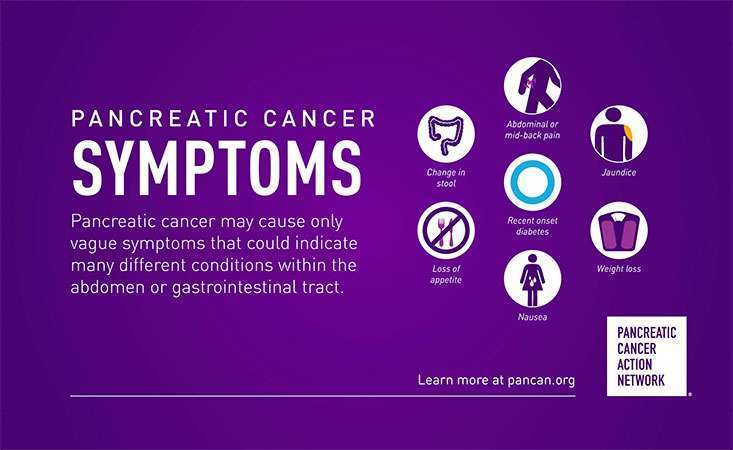 Pancreatic Cancer Action Network Urges Everyone to Learn Symptoms, Risk Factors of the World's Toughest Cancer
MANHATTAN BEACH, Calif. — (Nov. 1, 2018) Today marks the start of Pancreatic Cancer Awareness Month and the Pancreatic Cancer Action Network (PanCAN) urges the nation to Demand Better. For Patients. For Survival. As part of the annual campaign, the organization is shining the spotlight on the importance of knowing the risk factors and symptoms of pancreatic cancer, which can lead to earlier diagnosis and an improved chance of survival.
Pancreatic cancer is the third leading cause of cancer-related death in the United States, killing more people than breast cancer, and it is projected to become the second leading cause of cancer-related death by 2020. In fact, it's the only major cancer with single-digit survival rates. Just 9 percent of people with pancreatic cancer will live five years beyond diagnosis.
"Education and awareness are crucial steps in combating the world's toughest cancer," said Julie Fleshman, JD, MBA, President and CEO of PanCAN. "Better progress for pancreatic cancer starts with disease education, which results in earlier detection and more treatment options."
In 2018, more than 55,000 Americans will be diagnosed with pancreatic cancer. Before the year ends, an estimated 44,000 mothers, daughters, fathers, sons, sisters, brothers, colleagues and friends will pass away from the disease.
While pancreatic cancer is often a silent killer, the disease made headlines this year as it claimed the lives of several well-known Americans: singer Aretha Franklin, Los Angeles Times food critic Jonathan Gold, music manager and Jackson family patriarch Joe Jackson, musical artist Charles Neville, Time Warner Foundation President Lisa Garcia Quiroz and former Starbucks CEO Orin C. Smith. Additionally, U.S. Senator Harry Reid announced that he'd undergone a successful surgery for the disease.
One reason pancreatic cancer is so deadly is that there is no screening test or early detection method. Most patients are diagnosed when the disease has spread outside of the pancreas and surgery is no longer an option. However, the chances of survival increase tenfold if a patient is diagnosed in time for surgery.
Research studies have identified several risk factors that may increase the likelihood that someone will develop pancreatic cancer, including family history of the disease, diabetes, pancreatitis, smoking, obesity, race, age and diet.
Common symptoms of pancreatic cancer include abdominal or mid-back pain, unexplained weight loss, jaundice, loss of appetite, nausea, changes in stool and new-onset diabetes. These symptoms are often vague and are generally attributed to other less serious and more common conditions. We urge everyone to pay attention to these signs and to consult a doctor you have concerns.
Learn more about the symptoms and risk factors of pancreatic cancer and how you can take action all month, including on World Pancreatic Cancer Day (Nov. 15) by visiting pancan.org/demandbetter. Follow PanCAN on Twitter, Instagram and Facebook.