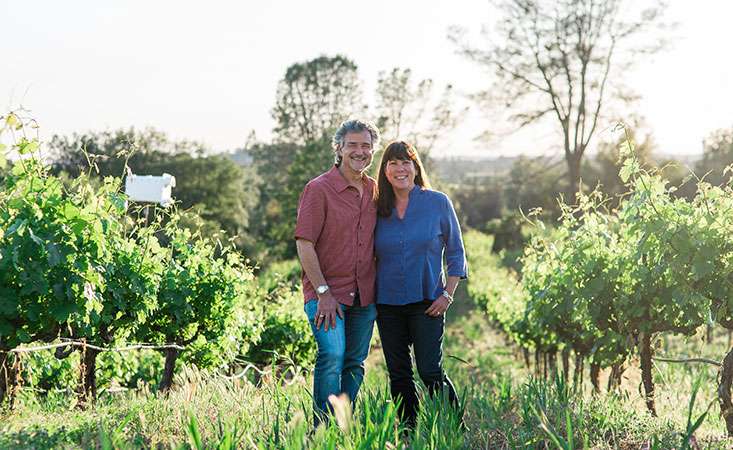 Tucked into the Sierra Foothills of Northern California, in a town called Fair Play, sits Cedarville Vineyard.
Jonathan Lachs and Susan Marks bought the property in 1995 and moved to the area four years later from the Bay Area. They built Cedarville Vineyard and Winery themselves and before long, were fulfilling a long-held passion: making wine in their own winery from their own grapes.
Susan naturally gravitated toward the role of CEO, while overseeing the laboratory, label production, finance and compliance. Jonathan was responsible for the vineyard, sales and marketing. They shared the winemaking. Their skillsets complimented each other perfectly.
The couple met at a student wine tasting hosted by Jonathan when they were 21 and both were earning enology degrees (the study of wine and winemaking) at the University of California, Davis. They married three years later.
"In hindsight, to have chosen not only a partner I loved, but also a partner in life and business, Susan would always be my number-one draft pick in any situation," Jonathan said.
"She was the kind of person you build a team around. I was blessed to have her on 'my team' for 38 years."
In March 2019, Susan went to her doctor with abdominal pain. Maybe she had pulled a stomach muscle while running, she thought.
The results from an ultrasound turned their world turned upside down.
"This is a quiet cancer," Susan's gastroenterologist had told her. Her paternal grandmother had died of pancreatic cancer at an older age. Susan was only 58 when she was diagnosed.
True to her nature, she jumped into action, doing much research into oncologists, treatment options and her care. She also made a decision about her outlook, despite a devastating cancer.
"Susan decided to be sunshine," Jonathan said.
"That's a big decision, and not an easy one. She wanted to make the most of the time she had left, committing to FOLFIRINOX as her treatment so she could spend her non-treatment days the way she wanted to. And we did. It was a personal growth experience to live like that. It was beautiful and profound. And intimate – I never would have thought I could have gotten even closer to Susan, but I did. It was remarkable."
The pair continued to work together and enjoyed their favorite activities, like hiking and running, as often as Susan felt up to it – which was pretty much always, Jonathan said.
In summer 2020, just as the grapes were beginning to flower, Susan passed away.
This June 2, to coincide with the one-year anniversary of her death, Jonathan has made a new wine – the Susan Marie Rosé.
It's the first Rosé ever bottled by Cedarville Vineyard.
"Susan loved Rosé, but we always chose to make bigger wines with our grapes. Now we have a Rosé made from our vineyard," Jonathan said.
The label on the bottle states: In honor of our founder, Susan Marie Marks, our debut Rosé is crafted in the traditional style – crisp, refreshing and decidedly Cedarville. Beautiful and authentic, just like Susan, who loved life and loved her Rosé.
Jonathan is offering bottles of the Susan Marie Rosé to the winery's mailing list and will include a special note about the meaning behind the wine. This is how many will learn the news of Susan's passing. Customers felt like they knew Susan personally – she treated everyone with kindness and compassion.
Jonathan is also healing by donating to PanCAN in tribute to Susan and is asking others to do the same. He learned about PanCAN and the organization's comprehensive approach to tackling pancreatic cancer after her death.
"PanCAN's mission and strategy for improving pancreatic cancer survival is very admirable," Jonathan said. "They've earned my trust. I especially appreciate PanCAN's work in the areas of early detection and treatment."
PanCAN's Early Detection Initiative will study whether imaging at the time of new-onset diabetes leads to earlier detection of pancreatic cancer, and from there, determine if it's possible to develop a screening method that detects pancreatic cancer when it can be surgically removed.
Another groundbreaking initiative is PanCAN's Precision PromiseSM adaptive clinical trial, created to accelerate new treatment options for pancreatic cancer patients. Traditional clinical trial designs are slow to evaluate new treatment options, so Precision Promise more efficiently tests new therapies for their effectiveness by requiring fewer patients to understand if a potential new therapy is working. The platform is also designed to allow multiple investigational therapies to be tested simultaneously.
Devoted and loyal to people and things she loved, Susan focused on doing the right thing, always, Jonathan said, and in a selfless and elegant way. "I often thought, 'Man, she can always come up with just the right thing to say, and quickly!'"
He said Susan would agree that giving to PanCAN is the right thing to do.
"I channel Susan a lot in my day-to-day," he said. "I always leaned on her for support on my decisions, and I think she would be excited about the work PanCAN is doing and that they're working to make sure no one else has to go through the experience we did or be taken away from this beautiful world in an untimely way."
Donate
to PanCAN in honor of someone you love. Your gift of any size can fund research into early detection, treatment and patient and caregiver support.
You can also donate to Jonathan's tribute page in memory of Susan.