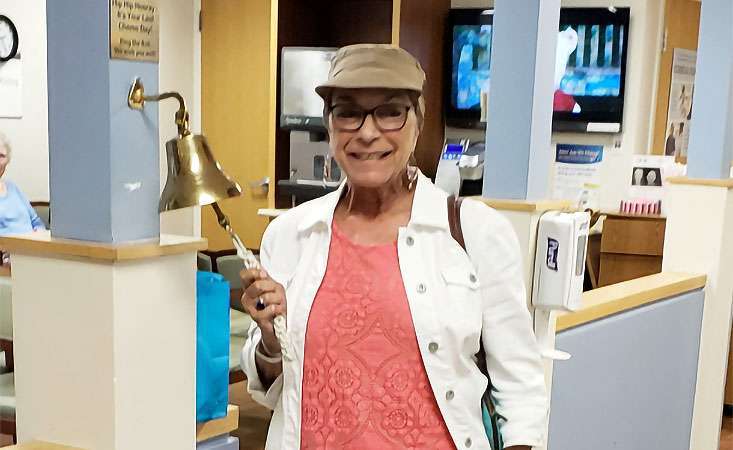 Editor's note: January is Pancreatic Cancer Clinical Trials Awareness Month. Today we share the experience of a stage IV pancreatic cancer survivor who benefitted from participating in clinical trials.
When Davi D'Agostino was diagnosed with stage IV pancreatic cancer in early 2018, she didn't let the odds deter her. The now-65-year-old Virginia native sought out information from reliable sources, advocated for herself and used her support network to find a treatment plan that worked – including a clinical trial.
Before her diagnosis, D'Agostino had no symptoms and felt fine. But tests following a gynecological procedure revealed high CA 19-9 levels. Suspicious, she was proactive with her doctors and advocated to get more testing to figure out the cause.
Eventually D'Agostino received a CT scan, which revealed a mass on her pancreas. She underwent follow-up tests, including a biopsy, and a specialist confirmed that D'Agostino had stage IV pancreatic adenocarcinoma, the most common form of pancreatic cancer.
Though she considered clinical trials at diagnosis – as the Pancreatic Cancer Action Network (PanCAN) recommends – D'Agostino decided to begin with a standard of care chemotherapy, FOLFIRINOX.
While on chemotherapy, D'Agostino experienced many side effects: weight loss, neuropathy, fatigue, blood clots and digestive challenges.
But the treatment was working. Her CA 19-9 levels lowered dramatically, indicating shrinking tumors.
And D'Agostino was not afraid to share the side effects she experienced with her healthcare team, who used supportive care to lessen the negative effects. D'Agostino found pancreatic enzymes particularly helpful.
D'Agostino also prioritized travel during her treatment, teaching painting on four European river cruises she had planned before her diagnosis. She shares, "It was crucial to have things like this to look forward to between treatments and appointments."
When D'Agostino was diagnosed, she advocated for molecular profiling of her tumor tissue and germline (genetic) testing of her blood. The genetic testing found no germline (inherited) mutations, but the molecular profiling results later showed that her tumors had a somatic (acquired over time) BRCA2 mutation. This gave D'Agostino more possible treatment options – those targeting that mutation.
After nine rounds of chemotherapy, D'Agostino enrolled in a phase II clinical trial for a targeted therapy, rucaparib.
Similar to Lynparza® (olaparib), which was recently approved by the FDA for certain pancreatic cancer patients, rucaparib is a PARP inhibitor. Rucaparib is being tested in clinical trials for pancreatic cancer patients.
Friends, her healthcare team and PanCAN's PanCAN Patient Services helped D'Agostino learn about available clinical trials.
"PanCAN personnel were excellent and did a narrowed search of clinical trials, with the knowledge of my BRCA2 tumor mutation and a geographic parameter I provided," D'Agostino says. "They reduced a hundred 'possible' trials down to 22.
"The trial I chose seemed tailor-made for my situation."
Though at first the clinical trial treatment caused strong side effects, they quickly tapered off. She began gaining weight, and her hair began to grow back.
Best of all, her primary tumor has not grown, and in January 2019, an MRI revealed no visible or measurable metastases (tumors outside the pancreas). "Only 'faint foci' were visible, and the radiologist credited the trial medicine for this," D'Agostino shares. These positive results continue today.
D'Agostino has her clinical trial visits down to a routine and always includes a special treat: "I take the train every 28 days or so to Philadelphia from Washington, D.C.'s Union Station, accompanied by my partner, Dave, or a dear friend.
"I provide blood labs, spend quality time with my wonderful doctor and receive my next course of tablets. After the medical visit, we have a lovely lunch at my new favorite restaurant in Philly."
D'Agostino remains both hopeful and practical, saying, "Not being eligible for surgery and not being sure if the trial medications will continue to work for years have not deterred my eternal hope or lessened my endless gratitude for the doctors and scientists who are determined to take on and overcome this horrible challenge of pancreatic cancer.
"I refuse to let the disease define me. I have an amazing support network. I stay busy socially, travel, paint and teach painting, and I have much to look forward to. I continue to stay on top of the latest research and will plug into new clinical trials if I need to move on from this one."
D'Agostino's advice to others diagnosed with the disease?
D'Agostino is chronicling her story on her blog. She is also planning her "Beat the Prognosis" party for this spring.
Contact Patient Services
for free information about clinical trials, molecular profiling and anything else related to pancreatic cancer.
Any treatments, including clinical trials, mentioned in this story may not be appropriate or available for all patients. Doctors take many things into account when prescribing treatments including the stage and type of cancer and the overall health of the patient.