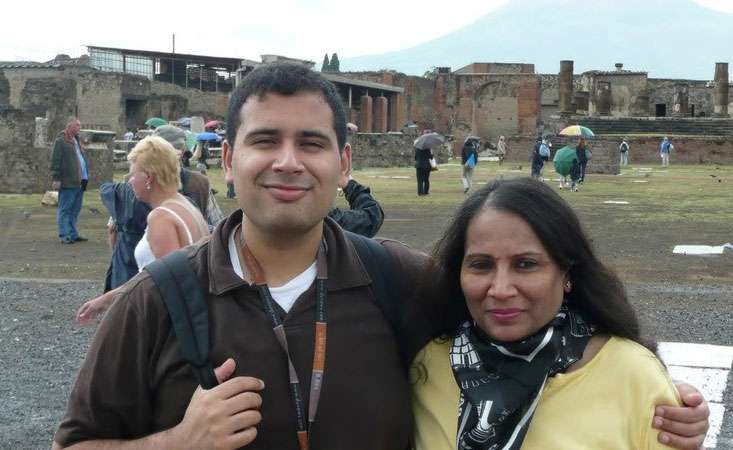 Editor's note: Today on the blog, caregiver Ulhas Subramaniam shares what he found to be most important and helpful in his mother's pancreatic cancer journey. Please note that Ulhas is neither a Pancreatic Cancer Action Network (PanCAN) employee nor a medical professional. PanCAN Patient Services can provide more information about any of the topics discussed here, along with support resources.
My mother began to lose weight over the course of a year, moving from 135 pounds to 120 pounds. We were worried, but not overly concerned, as she was still active and eating well.
Suddenly, however, in two months she dropped 20 pounds. That was coupled with stomach pain, loss of appetite and loss of energy.
What followed was months of tests and procedures, with doctors suspecting chronic pancreatitis. My mother's cancer remained undetected until she was hospitalized and a CT scan confirmed tumors in her peritoneum (abdominal wall) and a mass in her pancreas.
It was stage IV pancreatic ductal adenocarcinoma (the most common form of pancreatic cancer).
Understanding what to do next was a mystery. COVID-19 only made things even more complicated, as we couldn't initially meet my mom's oncologists in person.
We had to learn as we went along, with the help of wonderful friends, family, charities and organizations like PanCAN that helped point us in the right direction.
So, I've compiled a list of steps intended to help families navigate options and speak to healthcare providers when faced with a pancreatic cancer diagnosis:
PanCAN Patient Services can help you navigate all of these steps as well as provide support and information throughout your journey.
My Mother's Treatment Journey
In my mother's case, as a stage IV patient whose cancer had already spread when diagnosed, she was not eligible for removing the tumor through surgery. She wanted biomarker testing, but the tissue sample taken during the biopsy was of poor quality. We asked for a liquid biopsy instead, which analyzed a blood sample. Unfortunately, no biomarkers that would help find treatments were found. As a result, it was recommended that she begin chemotherapy as soon as possible.
We considered the option of her coming to the Bay Area of California from her home in Maryland to begin chemotherapy. My brother's family and mine both lived in the Bay Area, and we all felt strongly that being with her children and grandchildren, one of whom she had never met due to COVID, would be immensely motivating for my mom. In the midst of her weakened state as well as the COVID-19 pandemic, however, the logistics of travelling were hard to stomach. We decided to begin treatment as soon as possible in Maryland to give her the best chance to start feeling better while constantly keeping an eye on transferring care if possible.
Thankfully, two rounds of chemotherapy in Maryland helped reduce my mom's peritoneal tumors while keeping her pancreatic mass stable, giving her added energy. While undergoing her third round of chemotherapy, we were able to find safe options for travel through wonderful organizations that help take cancer patients to treatment across the country.
Uniting our family in one location to support my mom during the pandemic while giving her the chance to meet her grandson for the first time meant the world to all of us.
We are keeping clinical trials aimed at novel treatment approaches in our back pocket to act upon quickly if her chemotherapy ever stops being effective. With luck, my mom's cancer will continue to respond to chemotherapy or new clinical trials.
PanCAN Patient Services is completely free and has a number of resources that will help navigate treatment options and more. Start by asking for their Diet and Nutrition Booklet, as your loved one's diet will likely need to significantly change as they battle the disease. If you have the results of the tumor sequencing or genetic testing, be sure to share the results with your dedicated PanCAN case manager so they can help narrow down the list of clinical trials your loved one may be eligible for.
Keeping My Mom Strong Through Diet and Nutrition
Throughout this time, diet has been an important focus for us. We had special concerns for my mother's diet, as our family is vegetarian and mostly eats an Indian diet. Many nutritional books for cancer patients focus on Western recipes, and many nutritionists may not be familiar with unique Indian foods.
So, we asked nutritionists a lot of questions to get to the heart of the recommendations (e.g., use easily digestible and healthy oils, avoid fats, boost calories in any meal, etc.) and internalized guidance from resources such as PanCAN's Diet and Nutrition Booklet (you can contact PanCAN to get a free copy).
After that, we were able to create our own plan with my mom: switch to healthy mono- or polyunsaturated oils in our Indian cooking, incorporate protein shakes and add high-calorie ingredients to her food so that, even if she only ate a little, every bite had extra calories.  We also started to make more Western food at home such as boiled eggs, whole wheat spaghetti with homemade garlic-less marinara, and polenta. She enjoyed these new foods.
Beyond the food itself, since my mom was ultra-sensitive to any cooking smells, whether Indian or Western, that could make her nauseous, we also made a concerted effort to only cook family meals in the morning when she was more able to tolerate smells, and we placed air purifiers throughout the house to remove cooking smells.
At her diagnosis in October, she was eating less than 900 calories per day, but now she's getting about 1500-1600 calories – and hopefully more and more with time.
Thankfully, my mom's energy and strength are improving. We will continue to be there to support her through this, and I hope that my sharing our story will help other families that may face a similar situation.
Contact PanCAN's Patient Services
for personalized information about pancreatic cancer diagnosis, genetic and tumor biomarker testing, treatment and symptom management – including diet and nutrition resources like our popular booklet on the topic.
Any treatments, including clinical trials, mentioned in this story may not be appropriate or available for all patients. Doctors take many things into account when prescribing treatments including the stage and type of cancer and the overall health of the patient.