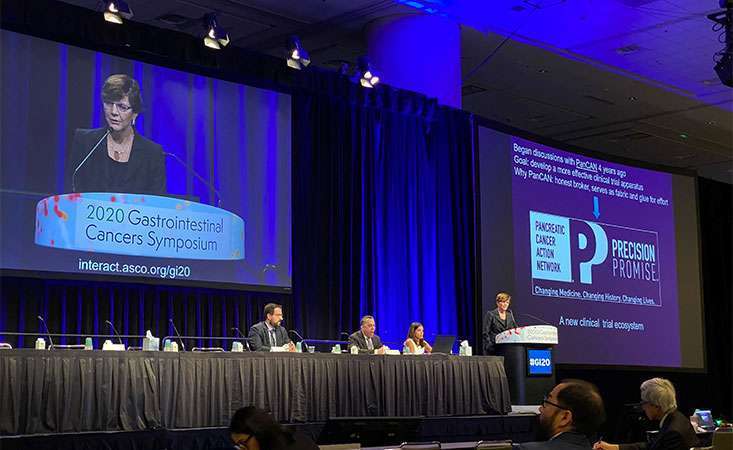 "Accelerating Personalized Care" was the theme for the 2020 Gastrointestinal (GI) Cancers Symposium, which took place Jan. 23-25 in San Francisco.
"'Personalized care' can mean lots of different things," explained Lynn Matrisian, PhD, MBA, chief science officer of the Pancreatic Cancer Action Network (PanCAN).
"We think of precision medicine, like PanCAN's Know Your Tumor® service, which provides patients information about treatment options that may align with their tumor biology or genetics. But personalizing care can also mean taking patients' feedback and experiences into account, focusing on managing symptoms and side effects and working together to create a treatment plan that fulfills the patient's goals and wishes."
Every year, this conference brings together researchers, clinicians, patient advocates and industry members to share research and learnings about the diagnosis, treatment and care of patients with GI cancers – including pancreatic. PanCAN staff, researchers, advisors and partners are always in attendance and contribute to the meeting.
Know Your Tumor Findings on Display
During a poster session at the GI Cancers Symposium, results from PanCAN's Know Your Tumor precision medicine service were featured.
Previous published data have confirmed that patients who go on therapies that align with their tumor biology have better outcomes. But not every patient's tumor has "actionable" findings that suggest a certain treatment option would be best for them.
However, this poster showed that even when considering between standard of care chemotherapies, a patient's tumor biology can be an important factor.
"We know a subset of patients' tumors or genetic makeup have alterations in what's known as DNA damage repair pathways, which include BRCA mutations," Matrisian said. "For those patients, the findings presented at the GI Cancers Symposium confirmed what we and others have shown – chemotherapy regimens that include platinum-containing drugs, such as FOLFIRINOX, have the most benefit."
In other cases, features of patients' tumor biology suggested a different standard of care option – Gemzar® and Abraxane® – would be a more effective choice.
PanCAN's PanCAN Patient Services can provide more information about Know Your Tumor, precision medicine and treatment options.
Taking a Closer Look at Health Economics
Another poster that included contribution from PanCAN's team focused on health economics – how costs for medical care for pancreatic cancer patients have changed over time.
Encouragingly, the analysis showed that patients' non-medication medical spending dropped dramatically from 2009 to 2016. The authors attributed this to fewer hospitalizations and emergency department visits.
During the same timeframe, the spending per patient for their prescription drugs went up slightly, but the medication spend was considerably less than non-medication costs. "Continuing to develop new, better drugs will ultimately save patients money and, more importantly, extend and improve their lives," Matrisian said.
PanCAN's PanCAN Patient Services can also help patients and their families access financial support resources.
Bringing Together Our Precision PromiseSM Team
In addition to the scheduled presentations during the GI Cancers Symposium, PanCAN brought together its Precision Promise and Industry Working Group teams for important discussions.
The PanCAN Industry Working Group meeting was dedicated in loving memory to Carina Rogerson through the support of Irene and Craig Rogerson. And, the Clinical Trial Consortium meeting honored the memory of Abby Sobrato, thanks to a generous donation from John M. Sobrato.
"The photos and memories of these two special women served as an important reminder for our team of why we're doing what we're doing every day," Matrisian said.
PanCAN's Precision Promise adaptive clinical trial platform is designed to more efficiently test new therapies for their effectiveness in treating patients with pancreatic cancer by requiring fewer patients to understand if a potential new therapy is working. The platform is also designed to allow multiple investigational therapies to be tested simultaneously.
Patients can now enroll in PanCAN's Precision Promise at Virginia Mason Medical Center in Seattle. The majority of the remaining 13 Precision Promise Clinical Trial Consortium sites are expected to open in 2020.


Lynn Matrisian, PhD, MBA (left), moderates a panel discussion at the Industry Working Group meeting.
Other Research Presented at the Meeting
As mentioned above, for pancreatic cancer patients whose tumors or genetic makeup show alterations in DNA damage repair mechanisms, platinum-containing chemotherapy is considered the appropriate first-line treatment.
However, there is more than one kind of platinum-containing chemotherapy available to pancreatic cancer patients.
Most frequently, patients receive a combination chemotherapy known as FOLFIRINOX, which is made up of 5-FU/leucovorin, irinotecan and oxaliplatin. Oxaliplatin contains platinum. But at this year's GI Cancers Symposium, PanCAN Scientific & Medical Advisory Board member Eileen O'Reilly, MD, presented results of a clinical trial suggesting the combination of Gemzar and cisplatin (another platinum-containing chemotherapy drug) was also beneficial to patients.
This clinical trial also revealed that the addition of a targeted therapy called a PARP inhibitor to this treatment combination did not further improve patients' outcomes.
"We're learning more and more about this specific patient population," Matrisian said. "The recent FDA approval of Lynparza® suggests that PARP inhibitors may be best administered after platinum-containing chemotherapy, rather than at the same time."
There were also several clinical trials presented at the GI Cancers Symposium that disappointingly did not report improvements in patient survival.
Every treatment available today was approved through a clinical trial. PanCAN strongly recommends clinical trials at diagnosis and during every treatment decision.
Even when an experimental drug does not prove to be better than the current standard of care, doctors and researchers learn from the results and use that information to design the next treatment approach and clinical trial.
"We're grateful to every patient who participates in clinical trials, allowing the field to answer important questions," Matrisian said.
"Meetings like the GI Cancers Symposium serve as an important reminder of the brilliant and compassionate people around the world who are working every day to improve outcomes for patients facing GI cancers, like pancreatic cancer."
Contact Patient Central
for a free personalized clinical trials search and other information about the diagnosis and treatment of the disease – including precision medicine.