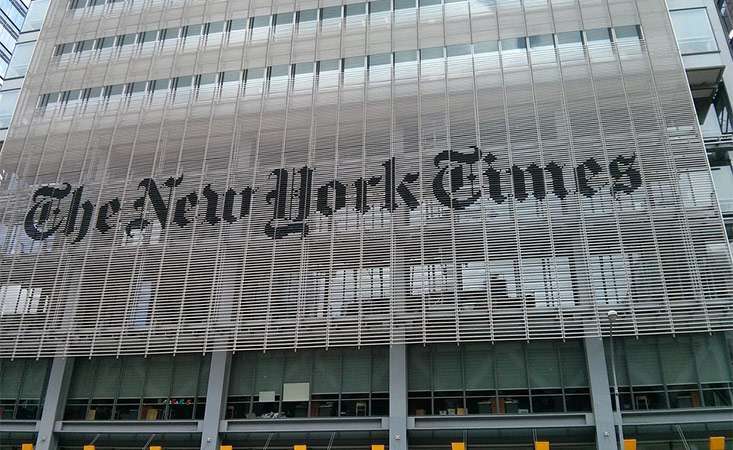 Veteran political journalist Andy Clymer recently had what may have been his last story published in The New York Times, only this time the story wasn't by him, but about him. The Times reports that Clymer, who worked as a reporter and editor for the paper, died at his Washington, D.C., home on Sept. 10, 2018, due to complications associated with pancreatic cancer. He was 81.
As a reporter, Clymer often said his favorite dateline was a 1973 piece for The Baltimore Sun, which quoted President Richard M. Nixon during the height of the Watergate scandal as telling a convention of newspaper executives, "I am not a crook." The dateline was Disney World. https://t.co/XMOGFFBXfw

— NYT Obituaries (@NYTObits) September 10, 2018
During his illustrious career, Clymer covered eight presidential campaigns, the Vietnam War, the Watergate Scandal and the subsequent resignation of President Richard Nixon. Prior to his retirement from the New York Times, Clymer worked at the Baltimore Sun and the Daily News in New York. His journalism career began during his studies at Harvard College, where he spent time as the editor of the student-run newspaper, The Harvard Crimson.
Doctors diagnosed Clymer with pancreatic cancer in March 2018. He was one of the 55,440 people in the United States who will be diagnosed with pancreatic cancer this year alone. Pancreatic cancer is the third leading cause of cancer-related death in the United States with a five-year survival rate of just 9 percent. The disease is anticipated to become the second leading cause of cancer death around 2020.
We are so sorry to hear that Adam Clymer, esteemed @nytimes journalist, has passed away of #pancreaticcancer. We continue to #DemandBetter for the many lives lost to this #cancer and send our condolences to all his loved ones. #WageHope https://t.co/3RnzDupfbn

— PanCAN (@PanCAN) September 10, 2018
This year has been an especially deadly one for notable pancreatic cancer patients – singer Aretha Franklin, food critic Jonathan Gold, music manager and Jackson family patriarch, Joe Jackson, musical artist Charles Neville, Time Warner Foundation President Lisa Garcia Quiroz, former Starbucks CEO Orin C. Smith and neuroscientist Ben Barres, MD, PhD, all passed away from the disease. U.S. Senator Harry Reid announced in May that he'd undergone a successful surgery for the disease, meanwhile actress and Pancreatic Cancer Action Network (PanCAN) champion Charlotte Rae, who had once battled and survived pancreatic cancer, passed away from cardiac arrest.
These notable public figures join a list of influential individuals who have been touched by the disease.  PanCAN fights every day for those affected and is dedicated to attacking pancreatic cancer on all fronts: research, clinical initiatives, patient services and advocacy.
The organization's Patient Services helps patients and caregivers find clinical trials, high volume treatment centers, diet and nutrition information and survivors who can provide support. All services are free of charge.
On behalf of Clymer and all patients like him, PanCAN will continue to work diligently to double survival by 2020 and improve patient outcomes.
Contact Patient Services
with questions about pancreatic cancer risk factors and for other information and resources related to the disease.