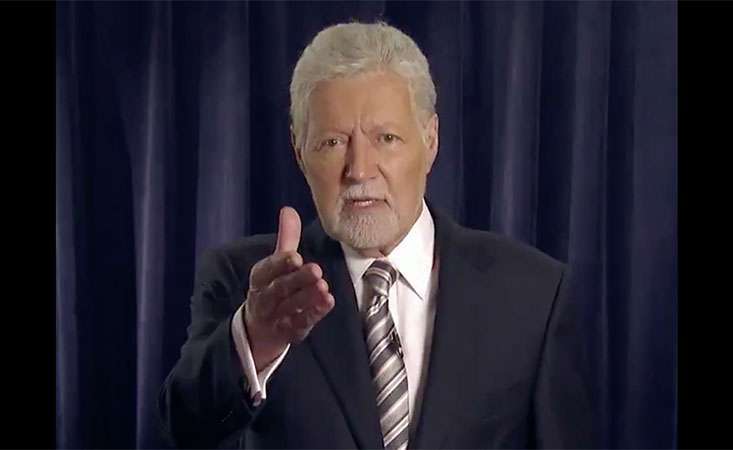 "Jeopardy!" host Alex Trebek released a video today to update fans on what – and how – he's been doing lately.
The beloved figure was diagnosed in March 2019 with stage IV pancreatic cancer and has had several ups and downs since, which he has been public about.
In this latest update, he shared, "I've been continuing my treatment, and it is paying off, though it does fatigue me a great deal. My numbers are good.
"I'm feeling great."
Here's a summer update from Alex! ☀️ pic.twitter.com/6oKJ5aSCU7

— Jeopardy! (@Jeopardy) July 16, 2020
Fatigue is a common side effect of pancreatic cancer treatment. Trebek has shared many treatment side effects he's experienced before – from hair loss to pain to depression.
Biomarkers like CA 19-9 levels are often used to gauge patients' response to treatment. Generally, numbers going down are a sign that tumors are likely shrinking.
Since his diagnosis, Trebek has become a public advocate for the disease, sharing updates about his journey, attending the Pancreatic Cancer Action Network's PurpleStride event in Los Angeles last year and appearing in a global PSA for Pancreatic Cancer Awareness Month last November.
This latest update comes the week before his 80th birthday and the release of his new book, "The Answer Is…Reflections on My Life."
"I can't wait to return to the studio and start recording shows for the new season in September," Trebek said in the video.
"Meanwhile, my wish for all of you: Stay safe."
It is important for patients to speak with a doctor to better understand their specific diagnosis, how CA 19-9 levels are related to their cancer and what next steps can be taken to address treatment and related side effects.