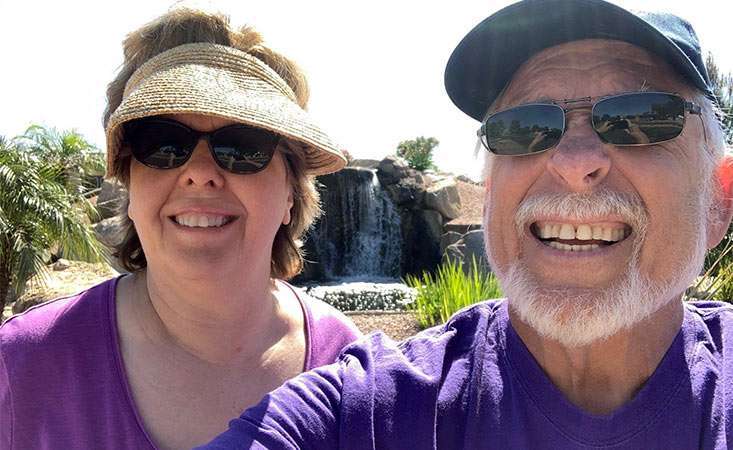 Timing is everything. And when Chuck Paulausky of Chandler, Ariz., happened to turn on "Jeopardy!" one evening last November and catch Alex Trebek talking about pancreatic cancer, the timing may have saved his life.
"Pay attention to the signs and symptoms…don't ignore them if you're feeling any of them…"
Chuck had been feeling a few of the symptoms that Alex was, at that very moment, telling viewers to pay attention to.
Pain in his upper abdomen. Pain in his back. He had also had type 2 diabetes for several years, and research suggests that a sudden onset of diabetes in people age 50 or older may be an early symptom of pancreatic cancer. (Diabetes is also a risk factor for pancreatic cancer.)
Within days Chuck was at his general practitioner's office, sharing the symptoms he was having.
"My doctor took everything I said very seriously and immediately ordered an ultrasound," Chuck said.
From there, an appointment with his gastroenterologist led to an MRI, which confirmed what the ultrasound had shown – a mass on his pancreas.
Dec. 12, 2019, less than a month after turning on "Jeopardy!" and hearing Alex, Chuck was diagnosed with stage 1B pancreatic cancer.
An early diagnosis.
He began chemotherapy in January, the same month that he retired from a career in safety and environmental management. Today, Chuck is celebrating finally being finished with chemo and radiation treatments.
Time to "Chuck It"
Chuck's healthcare team at Virginia G. Piper Cancer Center in Arizona recently shared in his celebration with homemade cookies, courtesy of Chuck's daughter. "Chuck It," the icing on the cookies spelled out, referring to his being able to "chuck" chemotherapy and radiation.
Chuck appreciates that his oncologist, endocrinologist and gastroenterologist took a team approach to his care.
"I had total trust in them," he said. "They met regularly about my treatment and care, and they really helped relieve much of the uncertainty I had."
Right Team is the first component (followed by Right Tests and Right Treatment) of the Right Track model, which the Pancreatic Cancer Action Network (PanCAN) encourages patients to follow. The Right Track focuses on key steps any cancer patient should take to ensure the best treatment outcome.
Chuck has discussed with PanCAN's Patient Services team the importance of biomarker testing that may be accessible through PanCAN's Know Your Tumor® service, clinical trials or one's healthcare institution. PanCAN strongly recommends all pancreatic cancer patients undergo biomarker testing of their tumor tissue and genetic testing for inherited mutations, which Know Your Tumor provides.
Strong Support
Every step of Chuck's experience with the disease has also been strengthened by his support network of family and friends.
He learned about PanCAN's free services for patients and caregivers, as well as its PurpleStride walks, through his daughter. She started a team ("Chuck It – Together We Are Chucking Out Cancer") for PanCAN's PurpleStride Phoenix. Friends, family and business contacts all rallied around Chuck and raised funds for PanCAN.
This strong support kickstarted his positive attitude, he said, which continues today.
Sure, there have been tough days. He has lingering side effects from treatment. Neuropathy (numbness) in his hands makes it challenging to sculpt, use his potter's wheel and work in the yard – all hobbies he enjoys.
Next he will have surgery to remove part of his pancreas, and enzyme therapy will likely follow.
The day of this interview, Chuck was grateful to be celebrating his 71st birthday.
"Because of Alex Trebek," he said.
"I sent a note to him that he saved my life. It's unusual for pancreatic cancer to be caught early, and education about the symptoms is the key."
Contact Patient Services
for free pancreatic cancer information, resources and support, including help with access to biomarker testing and getting on the Right Track.