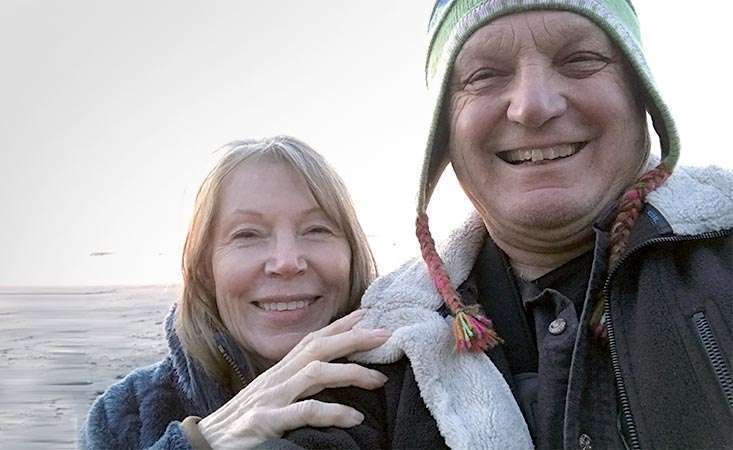 Editor's note: Mary Fox passed away in January 2020. We are grateful she allowed her story to be shared.
In early 2018, Mary Fox "felt on top of the world."
She and her husband of 40 years, Craig, had taken a camping trip up the Oregon and Washington coasts. And just the summer before, she hiked the Tahoe Rim Trail – 169 miles.
The couple had just finished building their dream home, had bought a travel trailer and were on the brink of retiring. "Our future looked bright and full of fun," Fox recalled.
So when pains that had been nagging her for about a month led to a diagnosis of stage IV pancreatic cancer in February 2018, Fox was shocked and devastated.
She began a standard of care chemotherapy, but the side effects she experienced were debilitating. "I was incredibly weak and discouraged," Fox said. "At that point, I was ready to quit chemo and let go."
That's when Craig reached out to the Pancreatic Cancer Action Network's (PanCAN) PanCAN Patient Services.
PanCAN Patient Services gave Craig information about other treatment options – including precision medicine, treatment based on the biology of a patient's tumors. A test called molecular profiling can uncover biological clues in a tumor that can guide a precision medicine approach.
Every pancreatic tumor is different, and patients who receive treatment based on their tumor's biological characteristics have better outcomes. PanCAN strongly recommends molecular profiling of a patient's tumor to help determine the best treatment options.
Fox brought up molecular profiling with her doctor and eventually enrolled in PanCAN's Know Your Tumor® precision medicine service.
In the meantime, encouraged by Craig, who had found hope in his conversation with PanCAN Patient Services, Fox started on another standard chemotherapy.
The new treatment seemed to keep her tumors stable. And the side effects were less severe, though the vomiting and diarrhea persisted.
When Fox's molecular profiling results came in, they showed that her tumor had an ATM mutation. While the mutation is uncommon in pancreatic cancer patients, research shows that certain treatments may be effective in treating tumors with this type of genetic change.
Fox was already receiving the type of chemotherapy suggested by the report. Based on the molecular profiling information, her doctor also prescribed a type of targeted therapy called a PARP inhibitor.
Unfortunately, Fox had a lot of trouble getting her insurance to cover the treatment. So, PanCAN connected Fox with the Know Your Tumor Careline, a resource set up to help patients who run into challenges getting molecularly targeted treatments.
With the help of this resource, Fox's case was brought in front of an administrative law judge. The judge reviewed her doctor's argument for using this treatment as well as PanCAN-provided literature about the possible benefit of this treatment for tumors with an ATM mutation.
The judge decided in Fox's favor, and Fox began the PARP inhibitor treatment. Shortly after, Fox's healthcare team stopped chemotherapy due to severe neuropathy she experienced. But Fox continues to take the PARP inhibitor.
Six months later, Fox's tumors have remained stable on her new treatment. She's also experiencing fewer symptoms and side effects.
"The fatigue and vomiting have dramatically improved. I now have good days and better days," Fox said.
"Some days are harder than others. I still need plenty of bed rest, but since the PARP inhibitor, I have been much more active, am eating better and can actually get out occasionally."
She is even cleaning closets – a big sign that she's feeling better, Craig notes.
Fox urges others facing the disease to reach out to PanCAN Patient Services about treatment options and to try to get molecular profiling as soon as possible.
She shared, "I believe wholeheartedly that PanCAN Patient Services gave my husband hope, and through his love, he transferred his hope to me to convince me to carry on the fight.
"PanCAN showed us the way to better understanding and gave us the hope we desperately needed."
Contact Patient Services
for information about any topic related to pancreatic cancer, including treatment, molecular profiling, Know Your Tumor, financial support resources and symptom and side effect management.
Any treatments, including clinical trials, mentioned in this story may not be appropriate or available for all patients. Doctors take many things into account when prescribing treatments including the stage and type of cancer and the overall health of the patient. Contact PanCAN Patient Services for personalized treatment options.