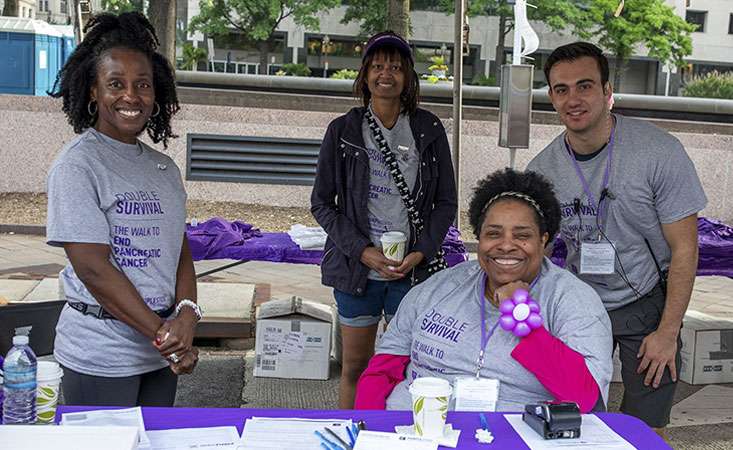 Editor's Note: April 18-24 is Volunteer Appreciation Week, and we're turning the spotlight on some of the Pancreatic Cancer Action Network's (PanCAN) invaluable volunteers, who really make it all happen. We're grateful for their energy and enthusiasm every day.
Gloria Perry lost her mother, Barbara Faye Hunter Powell, to pancreatic cancer in 2016, just six months after diagnosis.
"My mother was a devout Christian who loved unconditionally," Gloria said. "She was the strongest woman I knew. While she encountered many obstacles in her lifetime, she always handled them with grace and a smile."
That year, Gloria attended her first PanCAN PurpleStride event, and she began volunteering with her local Washington, D.C., Affiliate of volunteers shortly after.
It started with doing whatever the affiliate needed – supporting PurpleStride, outreach and advocacy efforts – as well as attending PurpleStride and PanCAN Advocacy Days. She has been an instrumental member of the affiliate's Advocacy Committee, using her professional experience to support her personal passion.
Outside of PanCAN, Gloria is a federal employee and has worked professionally in various roles, including serving in the office of a U.S. Representative and drafting legislation within the executive branch.
"I've always enjoyed learning about and engaging with the three branches of government, particularly impacting legislation," she said. "I understand the legislative process and collaborating with Congress, so advocacy comes naturally to me. Volunteering with the affiliate's Advocacy Committee is my way of using my experiences and skills to make a difference in the lives of others."
And last April, she took on a volunteer leadership role as the affiliate's Volunteer Recruitment Chair. Her warm, welcoming personality is the perfect fit for this position, in which she gets new volunteers connected and ensures they find a place to fulfill their passion within the affiliate.
"I'm always excited about new volunteers. Hearing their stories of strength and courage under adversity motivates me to keep going. I'm honored to help those who have lost loved ones turn grief into purpose and to connect our volunteers with opportunities to give back and make a difference in the lives of others."
Gloria is also excited by the work her affiliate is doing to focus on diversity and inclusion within their community. She's been spearheading outreach efforts to support this, too. In February, she organized a webinar for the Prince William County Alumnae Chapter of Delta Sigma Theta Sorority, Inc. – a private, nonprofit organization whose purpose is to provide assistance and support in local communities, with a primary focus on the Black community.
"I'm a 25-year member Delta Sigma Theta Sorority, Inc., and am a member of the sorority's physical and mental health committee. I thought the webinar would be a great opportunity to leverage my membership in both organizations to reach out and educate our community on pancreatic cancer and share resources and support PanCAN provides."
The webinar brought together an oncologist, a survivor, a patient advocate and a PanCAN Patient Services case manager to talk and answer questions about pancreatic cancer, including risk factors and the high incidence rate in Black Americans.
"Before my mother was diagnosed with pancreatic cancer, we knew nothing about the disease, except that it affected Black Americans disproportionately. After getting involved with PanCAN and doing my own research, I found that the incidence rate of pancreatic cancer among Black Americans is up to 60% higher than any other racial or ethnic group. This is still very troubling to me and unacceptable.
"So, I have a personal mission to educate all people, especially those underserved and underrepresented groups."
She wants everyone to know the signs and symptoms of pancreatic cancer – and that there are options for those who are diagnosed with the disease.
"I wish people knew to be more aware of changes in their bodies and to seek medical attention immediately if experiencing unexpected symptoms," Gloria shared. "I wish people knew that a pancreatic cancer diagnosis is not the end, and they should seek other opinions and demand better treatment options. I also wish more people knew about the support and resources PanCAN provides to those diagnosed with pancreatic cancer."
These wishes, and a desire to honor her mother's memory, are at the heart of her outreach work for PanCAN. PanCAN is so grateful for Gloria's contributions, and she is grateful for the relationships she has developed through this work.
"I feel like I'm a part of a family that has been brought together by tragic circumstances, but we are healing and growing through the pursuit of something much bigger than ourselves. Together we are rewriting the story of pancreatic cancer through outreach, advocacy, research, fundraising and more – and improving patient outcomes.
"My mother's strength lives within me. She is why I do what I do, and it's my greatest honor."
Join Gloria and the movement to create a better future for pancreatic cancer patients.
Get involved today
.