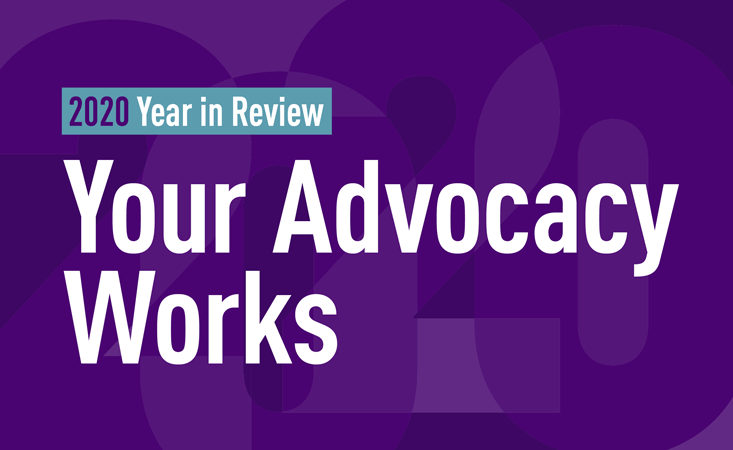 Editor's note: In today's edition of our Year in Review series, we're looking back at the wins you made possible through grassroots advocacy efforts. Check out our Year in Review articles focused on research and community action, and stay tuned for an article highlighting media coverage in 2020. 
For the Pancreatic Cancer Action Network (PanCAN) advocacy community, 2020 was the year Congress established the Pancreatic Cancer Research Program at the Department of Defense (DoD). This was a big win.
The DoD program is the first federally funded program with money specifically allocated for pancreatic cancer research.
In its first year, the Pancreatic Cancer Research Program had $6 million to award to scientists and clinicians around the country, through a highly competitive process.
And a week ago, we shared the fantastic news that Congress passed a budget for fiscal year 2021 providing $15 million to the program – a $9 million increase over 2020's budget!
All of this – the existence of the Pancreatic Cancer Research Program and its impressive increase in funding – is only possible because of PanCAN's advocates. As an advocate, your voice is powerful. You shared your story and ensured your members of Congress heard from you about the critical need for more federal researching funding for pancreatic cancer.
In fact, PanCAN's advocates sent 42,700 messages to Congress this year, and we reached all 535 members of Congress!
In addition to pushing for creation of the first-ever DoD Pancreatic Cancer Research Program, PanCAN's advocates continued to focus on increasing funding to the National Institutes of Health (NIH) and the National Cancer Institute (NCI).
The NCI, which is part of the NIH, is the largest source of cancer research funding in the country. Ensuring sustained funding to the NCI helps make sure pancreatic cancer – one of the deadliest types of cancer – will receive the resources and attention it needs.
Increases to federal funding for pancreatic cancer research wouldn't be possible without advocates raising their voices year-round, and especially during our first-ever Virtual Advocacy Week. Not being able to be together in Washington, D.C., this year due to coronavirus safety precautions did not stop our advocates from raising their voices loud and clear to their elected officials.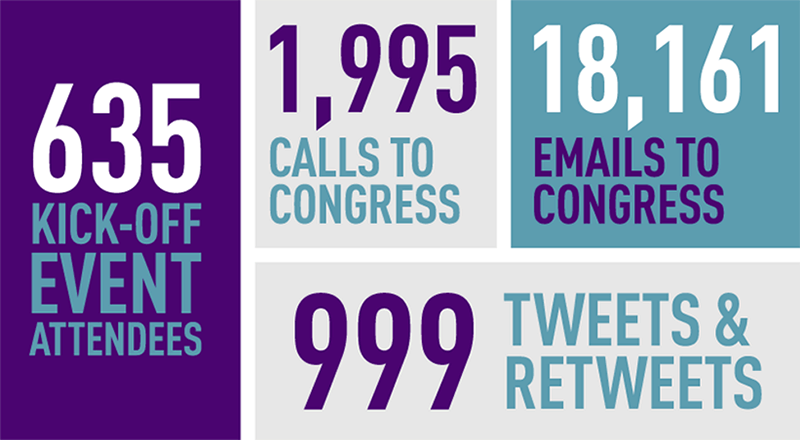 The numbers speak for themselves. And this influx of attention brought to pancreatic cancer is directly responsible for the increase in funding for the DoD Pancreatic Cancer Research Program and boosts to the NIH and NCI budgeted for 2021.
And advocacy isn't just about dollars. It's about the courage to share your story and the knowledge that your story – and your voice – matter.
For 13-year pancreatic cancer survivor Diane Borrison, sharing her story and developing relationships over the years with her members of Congress earned her an invitation to the State of the Union address in February 2020. She was invited by Rep. Anna Eshoo (D-CA), who lost a close friend to pancreatic cancer and who's been a tremendous supporter of PanCAN's advocacy efforts.
In other story highlights of the year, Dawn Johnstone shared that she advocates and volunteers with PanCAN in memory of her parents, who both died of pancreatic cancer.
"Advocacy cannot stop," she said. "Sending action alert emails, personally writing Congress members, sharing our stories to get funding legislation passed. It's demanding, but it's worth it!"
Also, Carolina Bouffioux, Yvonne Noesen and Kathleen Anderson have formed an unbreakable bond, born from unthinkable tragedy. All three women lost their adult sons to pancreatic cancer.
"Advocacy Day gives us a sense of power, especially after we felt so powerless against the disease," Yvonne shared.
And eight-year survivor Steven Merlin is dedicated to spreading the word about pancreatic cancer and supporting others diagnosed with the disease. Being an advocate is one of the ways Steven accomplishes this.
You don't have be a grownup to be an advocate – check out these incredible youth advocates! We can't wait to hear about the many ways Andrew and Lola will continue to change the world in the future.
We are extremely grateful to all advocates who speak up about pancreatic cancer with their elected officials. With your help, 2021 will be another year of increased federal funding and attention for the disease, leading to continued research progress and improved lives for patients.
Let Congress know
how much you appreciate their prioritizing pancreatic cancer research in 2020 and beyond.