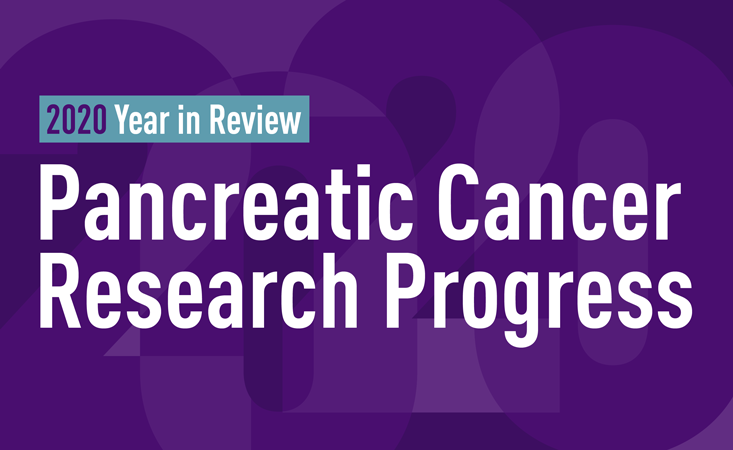 Editor's note: Today's article looks back at scientific and clinical advances made in 2020 and kicks off our Year in Review series. Stay tuned for upcoming articles highlighting community engagement, advocacy wins and media coverage this year.
2020 is a year none of us will soon forget. In the midst of a global pandemic and upheaval of our normal lives, pancreatic cancer didn't stop or slow down – and neither did research progress.
Thanks to our incredible donors, the Pancreatic Cancer Action Network (PanCAN) invested a record $21 million in research in 2020 – working toward better treatments, better early detection and, most importantly, better lives for everyone affected by the disease.
Every research effort – from studying single molecules in cells to looking at the whole body – is necessary to understand the disease and improve patient outcomes.
Below are some of the key discoveries and advances you helped make possible in 2020.
Progress Toward Better Treatments Through PanCAN's Clinical Initiatives
A precision medicine approach ca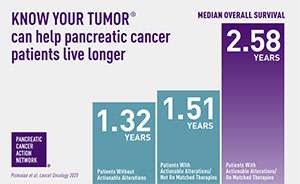 n help patients live longer. Results from PanCAN's Know Your Tumor® precision medicine service showed, for the first time, that patients who are able to go on treatment that matches their tumor biology live an average of one year longer than patients who can't go on matched therapies.
The study also showed that one in four pancreatic cancer patients have biological characteristics in their tumor that suggest certain treatments will work well for them. In order for patients to know all their options, PanCAN strongly recommends that all pancreatic cancer patients undergo testing – biomarker testing of their tumor tissue and genetic testing for inherited mutations.
At the end of 2019, a drug based on patients' biology was approved that achieved several firsts for the pancreatic cancer community. Lynparza® was the first drug approved for maintenance therapy for pancreatic cancer patients, meaning that it's given to patients to sustain a positive response from a previous treatment. And, it's the first treatment approved for pancreatic cancer patients based on mutations they were born with, which can be identified through blood or saliva tests (available through your doctor's office or PanCAN's Know Your Tumor service).
Another reason all pancreatic cancer patients are recommended to undergo genetic testing for inherited mutations is that their relatives may be at risk for the disease – even if no one else in their family has had cancer.
First-degree relatives (children, parents or siblings) of patients with pancreatic cancer are now recommended to undergo genetic testing for inherited cancer risk if:
Their family member was found to have a genetic mutation associated with cancer risk
Their family member cannot be tested
They don't know their family member's genetic test results
PanCAN also officially launched its Precision PromiseSM adaptive clinical trial in 2020. Precision Promise aims to develop new pancreatic cancer treatments faster and less expensively than standard clinical trials.
Patients are being enrolled at top cancer centers and healthcare institutions throughout the country (and we're now accepting applications to expand the Precision Promise Clinical Trial Consortium and its geographic, racial and ethnic diversity).
In addition to determining if investigational therapies are an improvement over current standards of care, Precision Promise will also integrate and evaluate supportive care measures to focus on the patient's total wellbeing.
PanCAN's Patient Registry champions patient-reported outcomes. Our Patient Registry is an online database that collects information from patients and their caregivers about their diagnosis, treatment, side effects, test results and more.
At the 2020 American Society for Clinical Oncology (ASCO) Quality Care Symposium, a poster was presented highlighting the power of patient-reported outcomes through data from our Patient Registry.
Thanks to patients' willingness to share their information in the registry – more than 2,800 patients participated over the four-year period analyzed – the research team was able to observe trends in responses based on patients' age, type of hospital where they're being treated and other factors.
The research PanCAN is conducting and the data we're collecting through our scientific and clinical initiatives aim to improve the detection, treatment and management of patients with pancreatic cancer today and into the future.
Progress Through PanCAN's Research Grants Program
Ten new research grants were awarded in 2020. Funding was given through Career Development Awards, which support junior investigators starting their careers as pancreatic cancer researchers, and Translational Research Grants, which support innovative projects aimed to move ideas from the laboratory bench to the patient's bedside.
Grantees were offered flexibility with start dates and reporting deadlines because of the coronavirus pandemic. Research progress continued, with scientists staying connected, learning and applying new computer-based approaches and even pitching in to help with the fight against COVID-19.
The 2020 class of grantees focuses on diverse approaches to improve pancreatic cancer patient outcomes.
Our newest grantees were introduced to the community at PanCAN's Annual Scientific Summit, which brought together research grant recipients, Scientific & Medical Advisory Board members, patient research advocates, industry members, donors and other special guests to share ideas, network and collaborate, through a virtual format this year.
In 2021, PanCAN will break its own record again – with a planned $23 million investment in pancreatic cancer research.
We will also officially launch our newest, large-scale project next year – PanCAN's Early Detection Initiative. Our Early Detection Initiative is a randomized trial to develop a feasible and cost-effective approach to detect pancreatic cancer when it can be surgically removed, with a focus on people with a recent diabetes diagnosis or change in their blood sugar.
PanCAN remains committed to conducting, funding and supporting leading-edge research to move us closer to achieving our vision to create a world in which all patients with pancreatic cancer will thrive.
We can't do it without you.