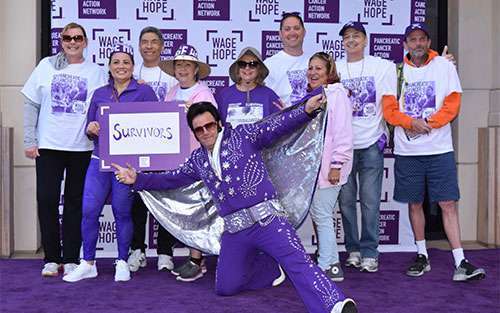 Editor's note: Our "Year in Review" series recapping the year's top stories in pancreatic cancer research, national news, volunteer contributions and more, continues today. You can find more of the year's most notable stories on our blog.
PurpleStride, the walk to end pancreatic cancer, seemed omnipresent in 2017 with events happening across the country most weekends. Perhaps a sea of "Purple People" crossing the finish line, arms raised in victory, came through your community. Whether you had the opportunity to attend an event, fundraise or make a donation to a participant, you helped make this year's PurpleStride season among the most memorable. And you should step up on the winner's stand, because thanks to your involvement, you helped rewrite the future of pancreatic cancer.
Here, in no particular order, are some of the year's top PurpleStride stories:
Sign up for your local PurpleStride – the walk to end pancreatic cancer – today!