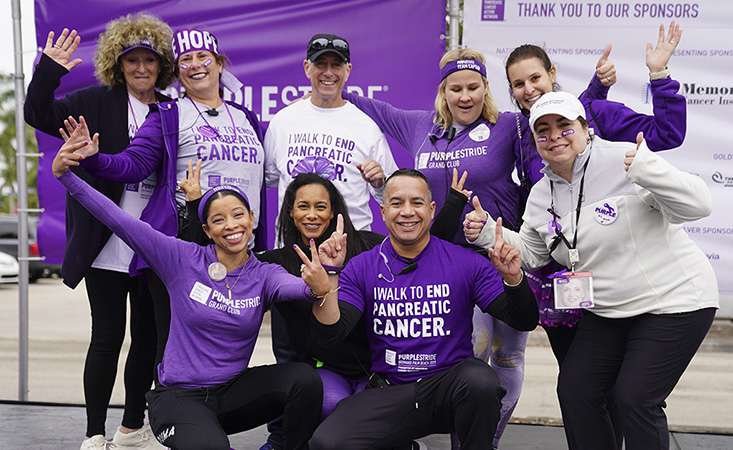 Heroes in the fight against pancreatic cancer are all around us and if you're reading along, you're among them.
Thank you for all you do to support pancreatic cancer patients and families all year long. It's a joy to get to bring your stories to life – they inspire, motivate and encourage. Because it's impossible to narrow down to one that exemplifies the word "hero," please enjoy a few story highlights from the past year as we say thank you on National Heroes Day. We are so grateful for all that you do to raise awareness and funds for pancreatic cancer!
Heroes Among Us
In case you missed it, actor Michael Landon's family recently reflected on the 30 years since his death to pancreatic cancer, how they honor his memory and bring more attention to the disease.
Actor Mindy Kaling served as the PanCAN ambassador for Pancreatic Cancer Awareness Month in November 2020 and brought more awareness than ever to the disease, as she shared her story of losing her mother. Lisa Niemi Swayze also brought awareness to pancreatic cancer, sharing more about coping after husband Patrick Swayze's death.
Author Judy Blume wrote from the heart about her husband's diagnosis and treatment, letting readers in on memories, high points and bumps in the road, and encouraging people to get involved with PanCAN.
Actors Kitty Swink, Armin Shimerman and Jonathan Frakes of "Star Trek" hosted PanCAN Action Week, which saw record-setting attendance. Thousands of advocates from all 50 states joined to urge Congress to increase federal funding for pancreatic cancer research.
The three also formed a team for PanCAN's PurpleStride Los Angeles 2021, which was the second highest fundraising team for the event. Speaking of fundraising, Nicholas Nissen, MD, a pancreatic cancer surgeon at Cedars-Sinai Medical Center in Los Angeles, raised nearly $120,000 for PurpleStride LA. Dr. Nissen is the highest-ever fundraiser in PurpleStride history.
Other notable figures sharing their personal stories of being affected by pancreatic cancer include "This Is Us" creator Dan Fogelman and Alex Trebek's daughter, Nicky.
Fifteen-year pancreatic cancer survivor Laurie MacCaskill shared her personal story during Cancer Survivors' Month in June, and Robert Duran, three-time pancreatic cancer survivor, says to others fighting, "You are not alone. There is hope."
Lauren Postyn quit her job to be her mom's fulltime caregiver last year and wrote about her new role as "Curator of Care."
In her essay, Lauren said, "To all the 'Curators of Care' – you are heroes of humanity. You see a person for who they are before seeing them as a patient. Your contribution in the welfare of others is immeasurable. Know you are loved, valued and most importantly, indispensable."
PanCAN Patient Services Case Manager Sheehan AlRabie received the first Carol Kulok Award for Compassion. The award was established through a generous donation from PanCAN Board member Lisa Kulok.
We also shared the story of mom and daughter volunteer duo Roberta and Adrienne Zeigler, who raise awareness about pancreatic cancer in the Black community.
Sisters Jenica Leonard and Becca Chambers volunteer with PanCAN in honor of their mom Sue Popik, a survivor.
Jennifer Schiffmacher was honored by employer Nationwide Insurance for her volunteer work with PanCAN, and Carlos Ayala honors his mother's memory by leading his local PanCAN volunteer affiliate. Also, Jake Coleman is a young teen who participates in his local PurpleStride in honor of his grandfather.
Then there's Alex Coleman and fellow team members on Team Donna Coleman at PurpleStride Dallas-Ft. Worth – they participate in memory of Alex's former wife, Donna.
And we could not write about heroes without a shout out to PanCAN scientific research grantees, including our recently announced 2021 grantees, and the donors and supporters who invested a record $22 million in grants and PanCAN's scientific and clinical initiatives this year. Thank you!
Among donors supporting PanCAN research grantees are the Berner and Kole families, affected by pancreatic cancer.
And Linda Dodge, who has included PanCAN in her Will in memory of her mother. Also, Tom and Jon Aronson, who raised money to fund research that laid the foundation for PanCAN's Early Detection Initiative.
And Barbara Kenner, PhD, is a PanCAN Board member who was instrumental in supporting the Early Detection Initiative and is involved because she lost her husband in 2010 to pancreatic neuroendocrine tumor (PNET).
On behalf of pancreatic cancer patients and families everywhere, thank you to all the survivors, caregivers, healthcare professionals and researchers, donors and volunteers, advocates and fundraisers who will never stop working to create a world in which every patient with pancreatic cancer will thrive.
Make a donation
today and be a hero to a pancreatic cancer patient in need of free services and support from PanCAN Patient Services.