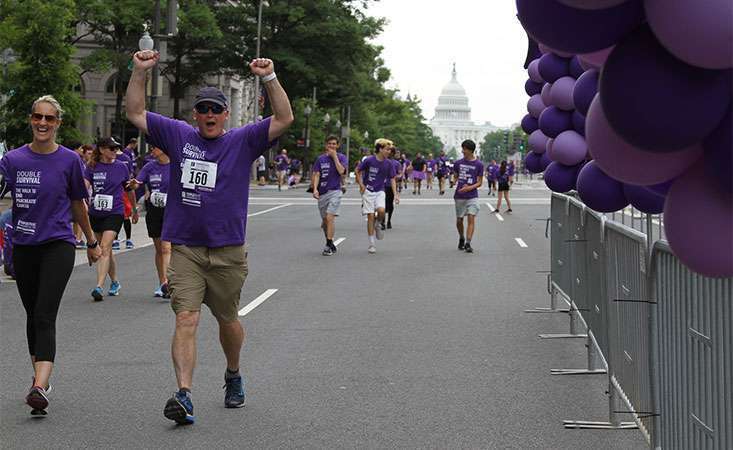 Editor's note: We continue our 2019 Year in Review series with the stories of supporters taking action in their communities through PurpleStride, PurpleLight, affiliate volunteer work and more!
The Pancreatic Cancer Action Network (PanCAN) is bolstered by the many passionate people who put their hearts into this cause from coast to coast.
For supporters who take lead volunteer roles in their local PanCAN volunteer affiliate; register and fundraise for PanCAN's PurpleStride, the walk to end pancreatic cancer; attend PurpleLight; raise awareness through local community events…you spend countless hours doing so much!
As 2019 closes, we thank every person who is committed to making a difference for pancreatic cancer patients and families.
Here are stories from the year that highlight just a portion of the standout efforts.
There's no better way to way to kick off a year-in-review than from 13,000 feet: Pancreatic cancer survivors, families and friends, including Orange County (Calif.) Affiliate volunteers, went skydiving to celebrate life. They also remembered friend and fellow volunteer, Lupe Romero, who died of pancreatic cancer in February 2019.
Also exhilarating was PurpleStride Washington, D.C., becoming the first PurpleStride to raise $1 million. Thank you to the fundraisers and donors who made that happen, and to the Judy and Peter Blum Kovler Foundation for their generous support.
PurpleStride Los Angeles welcomed "Jeopardy!" host Alex Trebek to its event stage in May. The inspiration behind Team Alex, Trebek's positive words made a big impact when he spoke during the opening ceremonies. He inspired other survivors and families, too, like this mom and daughter who participate in PurpleStride Chicago, and Tim Kissell, who lost his wife to the disease.
Check out more PurpleStride success stories, and participant stories, too – like that of Charles Bogino, a five-year survivor, PurpleLight speaker and volunteer with PanCAN's National Capital Area Affiliate in Washington, D.C. Also, Steven Yedwabnick, a 13-year survivor, advocate and volunteer leader in South Dakota.
Though Anna Shen lost her mother to pancreatic cancer, she remains involved years later in PurpleStride Silicon Valley because, "As a caregiver, PanCAN made me feel that I was in control and had power, and I am forever grateful." She also made lasting friendships with fellow volunteers, including Diane Borrison.
The same is so for Joe LaRose, a survivor who bonded with volunteer Bruce Platt at the first Philadelphia Affiliate meeting LaRose attended.
For Raymond Penn, whose story was shared in our 2019 Impact Report, PurpleStride Jacksonville holds special meaning and is part of his and his late wife's 44-year love story. And Kaz Iwamoto volunteers, attends PurpleStride events and has hosted an annual PanCAN benefit dinner. Meanwhile, Team Tracy supports PurpleStride Atlanta in a big way in memory of a dear friend and family member.
(In addition to all the heartwarming PurpleStride stories, we were proud and honored to see the event make the "Peer-to-Peer Fundraising 30" list again this year!)
Craig Irving, an American Airlines employee, shared his reason for getting involved with PanCAN as part of our Pancreatic Cancer Awareness Month campaign series in November.
Also in November, we shared the story of survivor Adam Deal, the father of two young sons. He supports PurpleStride Cleveland and has attend PanCAN's Pancreatic Cancer Advocacy Day.
Did you see the story about volunteer leader Stephanie Pieklik's wedding in New York? The theme and decorations were purple in memory of her late father.
Also, there's survivor and volunteer John O'Grady. He quilts, and he brings his purple creations to PurpleStride Virginia Beach and uses them as photo backdrops – and conversation-starters. And Gil Marchman, a 20-year pancreatic cancer survivor and longtime supporter of PanCAN.
Youth are involved in the cause in a big way: These teenage friends attended Advocacy Day together. Brennan Tominaga has been involved with PanCAN after losing his uncle when he was just a kindergartner – today he is a teen who encourages other kids to get involved. Mikayla Dodge especially enjoys fundraising for PanCAN at her school.
And West Virginia's Stephanie Santilli and her mom, Annette, who each won volunteer service awards in their state. They are involved in the cause in so many ways that we covered their story in two parts!
In addition to remembering Lupe Romero of the Orange County Affiliate, we pay heartfelt tribute to volunteer leaders Franco Juricic and Bruce Hill of PanCAN's New Jersey Affiliate, who also lost their lives to pancreatic cancer this year.
Finally, we send a special thank you to the dedicated members of our Volunteer Advisory Council. We are so grateful for all they do for PanCAN!
Learn how to
get involved
in your community in a way that is meaningful for you and that will positively impact pancreatic cancer patients and families.