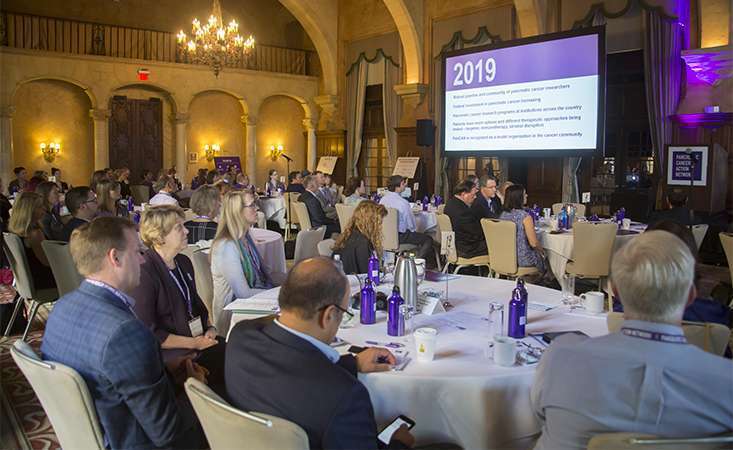 Editor's note: This article kicks off our 2019 Year in Review series – highlighting the research advancements that you – our donors and supporters – helped make possible over the past year. Stay tuned for additional articles showcasing the year's top stories about volunteer efforts, advocacy successes, media coverage and more.
The Pancreatic Cancer Action Network (PanCAN) seeks to advance research progress toward better pancreatic cancer patient outcomes. Learnings through the organization's competitive Research Grants Program, which builds and sustains a community of dedicated investigators focused on the disease and promotes breakthroughs, as well as PanCAN's innovative internal scientific and clinical initiatives, have pushed the field forward in 2019.
Progress Through PanCAN's Research Grants
Thanks to PanCAN's generous donors, 2019 research grant recipients' projects focus on topics like improving targeted therapies, overcoming resistance to immunotherapy approaches and deepening our understanding of the interrelationship between pancreatic cancer and pancreatitis.
PanCAN grantees from years past also contributed important findings to the biomedical literature over the past year. Key advancements made possible by your generous support include work to advance early detection strategies, new drug targets that could lead to improved treatment options and a greater understanding of the potential and challenges of applying immunotherapy to pancreatic cancer patients.
See what PanCAN grantees published in 2019:
What We Learned from PanCAN's Internal Initiatives
Two new papers were published in 2019 showcasing data from Know Your Tumor®, PanCAN's precision medicine service aimed to determine whether treatments that align with the patient's tumor biology could be more effective.
First, a paper described results comparing tissue samples taken from patients' primary tumors in their pancreas to samples from other patients' sites of metastatic disease. Importantly, the study found meaningful, consistent results can be gathered from either site of disease, allowing patients and their medical team more flexibility in submitting tissue samples for analysis.
In addition, a
recent paper spotlighted patients
whose tumors have deficiencies in their ability to repair DNA. The best-known alteration in this category is mutations to
BRCA1 or 2
, and other similarly acting genes can be altered in patients' tumors and/or in their bloodstream (known as
germline mutations
). Through Know Your Tumor, PanCAN and colleagues demonstrated a survival advantage for patients with alterations in DNA damage repair who are treated with platinum-containing
chemotherapy
.
This work builds on a peer-reviewed paper published in Clinical Cancer Research in 2018 that demonstrated that about 27 percent of pancreatic cancer patients have "highly actionable" alterations in their tumor, representing at least one molecular change that could impact treatment decisions.
Because of these and others' results, national guidelines now recommend all pancreatic cancer patients undergo testing to identify their genetic and molecular changes in their tumors as well as alterations they were born with.
Every pancreatic tumor is different. Patients who receive treatment based on their tumor's biological characteristics have better outcomes. PanCAN strongly recommends molecular profiling of your tumor to help determine the best treatment options. Contact PanCAN Patient Services to learn more and for other information and resources for pancreatic cancer patients.
Thanks to information submitted by pancreatic cancer patients and their caregivers, PanCAN and colleagues also published a study in 2019 that used data from PanCAN's Patient Registry to evaluate the prescription, use and effectiveness of pancreatic enzymes. Pancreatic enzymes can be prescribed for pancreatic cancer patients to alleviate symptoms and treatment side effects that can impact the ability of the pancreas to properly digest food.
The study provided evidence of the importance of patients being prescribed and taking enzymes at the appropriate doses and times to increase their effectiveness.
PanCAN's Precision PromiseSM adaptive clinical trial is designed to more efficiently test new therapies for their effectiveness in treating patients with pancreatic cancer by requiring fewer patients to understand if a potential new therapy is working.
In addition to investigating potential new therapies, Precision Promise is studying supportive care measures. The Precision Promise Supportive Care Committee published a study in 2019 categorizing different types of weight loss pancreatic cancer patients experience and providing recommendations for managing this debilitating condition.
PanCAN's chief medical officer, Victoria Manax, MD, also contributed to a perspective article describing how adaptive platform clinical trials differ from conventional clinical trials.
In addition to publishing papers, PanCAN's Scientific and Medical Affairs team regularly attends conferences to share ideas, learn best practices and network with other experts in the field. PanCAN also hosts its own Annual Scientific Summit to bring together research grant recipients, members of the organization's Scientific & Medical Advisory Board, industry partners and other special guests.
See highlights from the following 2019 meetings:
American Association for Cancer Research (AACR) Special Conference on Pancreatic Cancer
Updates to Pancreatic Cancer Guidelines in 2019
Thanks to recent research, including work conducted by PanCAN and its grant recipients, this year saw several significant changes to recommendations for the treatment and management of pancreatic cancer.
The National Comprehensive Cancer Network (NCCN) updated their guidelines to indicate all patients should undergo genetic testing and tumor molecular profiling. This information can guide treatment decisions, as outlined above in regard to PanCAN's Know Your Tumor findings.
Additionally, knowing a patient's germline genetic changes, or mutations they were born with, can impact their family members' risk of developing the disease. The U.S. Preventive Services Task Force (USPSTF) put out new recommendations this year for screening for pancreatic cancer.
Although the USPSTF continues to consider screening not beneficial for the general population, for the first time, they recommend surveillance programs under research conditions for individuals with a known genetic syndrome or strong family history of pancreatic cancer.
And finally, the NCCN also updated their guidelines regarding the treatment of patients with pancreatic cancer who are eligible for surgery.
Because of YOU, progress is being made every day. But for the approximately 56,700 Americans who received pancreatic cancer diagnoses in 2019, the survival rates remain dismal.
PanCAN remains steadfast in its mission to improve patient outcomes and better the lives of everyone impacted by this dreaded disease.
With your help
, we will continue to invest in brilliant scientists, conduct innovative initiatives and provide information and resources to patients and their families.